Welcome to Tucson Cancer Conquerors
Tucson Cancer Conquerors is an all-volunteer, non-profit support group dedicated to empowering cancer survivors and the communities that support them to achieve optimal wellness. We offer a unique peer support environment along with creative wellness programs designed to educate, inspire, and encourage cancer survivors to be proactive about their health both during and after cancer diagnosis and treatment. Our group is run by cancer survivors and our supporters, so we understand first hand the physical and emotional challenges associated with a cancer diagnosis. With a focus on exercise, nutrition, education, and support, we are here to help you successfully navigate the journey that lies ahead. You are not alone. We have your back.
You don't have to be a cancer survivor to be part of Tucson Cancer Conquerors. Our comprehensive approach to wellness is essential to cancer prevention and benefits everyone. Cancer survivorship is about getting healthy and staying healthy. To learn more about our activities and programs explore our website, check out our Calendar and Newsletter, or click here to email us. Better yet, just grab a friend and come check us out!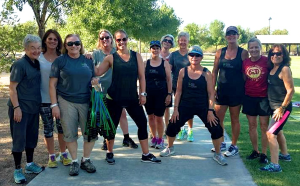 6 Benefits of Group Fitness Classes
Motivation: It's inspiring and motivating to be surrounded by dedicated, like-minded individuals.
Structure: Group fitness is a great way to get a workout in without having to think or plan.
Proper Form: Your fitness instructor will make sure everyone in the class is executing each exercise the right way.
Variety: Having variety in your weekly workout regimen is a great way to keep your body guessing and ramp up your metabolism.
Accountability: If you're signed up for an exercise class and it's on your schedule, there's a good chance you won't skip it.
Fun: There's really no other way to put it – group fitness classes are fun!
---
Tucson Cancer Conquerors added 13 new photos.
Friday, 2 December 2016 5:42 pm
A wonderful holiday celebration with the Cancer Conquerors!