Welcome to Tucson Cancer Conquerors
Tucson Cancer Conquerors is an all-volunteer, non-profit support group dedicated to empowering cancer survivors and the communities that support them to achieve optimal wellness. We offer a unique peer support environment along with creative wellness programs designed to educate, inspire, and encourage cancer survivors to be proactive about their health both during and after cancer diagnosis and treatment. Our group is run by cancer survivors and our supporters, so we understand first hand the physical and emotional challenges associated with a cancer diagnosis. With a focus on exercise, nutrition, education, and support, we are here to help you successfully navigate the journey that lies ahead. You are not alone. We have your back.
You don't have to be a cancer survivor to be part of Tucson Cancer Conquerors. Our comprehensive approach to wellness is essential to cancer prevention and benefits everyone. Cancer survivorship is about getting healthy and staying healthy. To learn more about our activities and programs explore our website, check out our Calendar and Newsletter, or click here to email us. Better yet, just grab a friend and come check us out!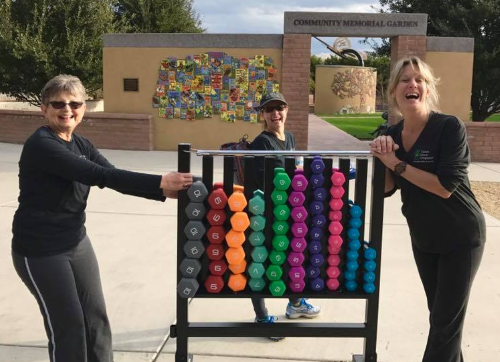 Why Do We Lift Weights?

While cardio exercises are often seen as the best way to create a caloric deficit and lose weight, it turns out weightlifting can help, too!
Aerobic vs. Anaerobic Exercise
Anaerobic exercise, like weightlifting, is high intensity and quick. Since your body can't get enough oxygen to your muscles quickly enough, your cells break down sugars instead.
Other Benefits of Weight Training
Although the main benefit of lifting weights is increasing muscle size and strength, that also boosts your metabolism since one pound of muscle requires six to 10 calories per day to maintain itself.
Which Weighlifting Moves Burn the Most Calories?
Moves that use multiple muscles build the most muscle. Try Squats, Lunges, Deadlifts, Pull-ups and Push-ups using only your body weight for resistance, then start adding weights for bigger gains.
For more info, click here to read the full article at HealthLine.com.
---
Saturday, 16 December 2017 1:17 pm
If you attended the high tea and received one of these survivor favors from Healthy Skin dermatology, the wristband in there is actually a UV indicator! It begins to turn purple if you are getting too much sun exposure. When you go back inside it will reset to white. A good reminder to wear your sunscreen and a hat! Sorry forgot to mention that important detail😳