Welcome to Tucson Cancer Conquerors
Tucson Cancer Conquerors is an all-volunteer, non-profit support group dedicated to empowering cancer survivors and the communities that support them to achieve optimal wellness. We offer a unique peer support environment along with creative wellness programs designed to educate, inspire, and encourage cancer survivors to be proactive about their health both during and after cancer diagnosis and treatment. Our group is run by cancer survivors and our supporters, so we understand first hand the physical and emotional challenges associated with a cancer diagnosis. With a focus on exercise, nutrition, education, and support, we are here to help you successfully navigate the journey that lies ahead. You are not alone. We have your back.
You don't have to be a cancer survivor to be part of Tucson Cancer Conquerors. Our comprehensive approach to wellness is essential to cancer prevention and benefits everyone. Cancer survivorship is about getting healthy and staying healthy. To learn more about our activities and programs explore our website, check out our Calendar and Newsletter, or click here to email us. Better yet, just grab a friend and come check us out!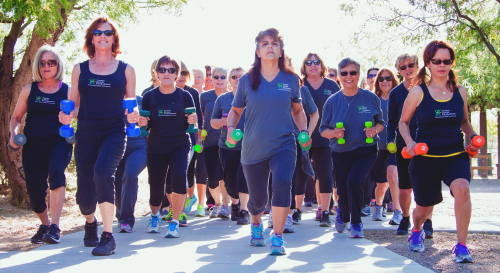 Exercise Thoughts for the New Year
Over the last decade Americans have become increasingly sedentary, spending 93% of our lifetimes indoors and 73% of each waking day sitting. Research shows that these long periods of physical inactivity increase your risk of developing heart disease, diabetes, obesity and cancer.
Your body was made to move so when it doesn't get regular physical activity muscles and joints become stiff and sore, and mentally you feel moody, sluggish, and tired. It's important to get up every hour, whether it's setting a reminder alarm at work to get up and stretch, pacing while you chat on the phone, or getting up every TV commercial to move around.
Actually putting exercise on your calendar each day is important and Tucson Cancer Conquerors has so many options to Get Active: two fun Get fit classes per week, group hikes, walks, organic gardening, and fitness field trips. So take action for the New Year and come join us!
---
Tucson Cancer Conquerors added 2 new photos.
Tuesday, 17 January 2017 3:44 pm
Not only are our Get Fit classes fun, they are colorful too! Join us…