Welcome to Tucson Cancer Conquerors
Tucson Cancer Conquerors is an all-volunteer, non-profit support group dedicated to empowering cancer survivors and the communities that support them to achieve optimal wellness. We offer a unique peer support environment along with creative wellness programs designed to educate, inspire, and encourage cancer survivors to be proactive about their health both during and after cancer diagnosis and treatment. Our group is run by cancer survivors and our supporters, so we understand first hand the physical and emotional challenges associated with a cancer diagnosis. With a focus on exercise, nutrition, education, and support, we are here to help you successfully navigate the journey that lies ahead. You are not alone. We have your back.
You don't have to be a cancer survivor to be part of Tucson Cancer Conquerors. Our comprehensive approach to wellness is essential to cancer prevention and benefits everyone. Cancer survivorship is about getting healthy and staying healthy. To learn more about our activities and programs explore our website, check out our Calendar and Newsletter, or click here to email us. Better yet, just grab a friend and come check us out!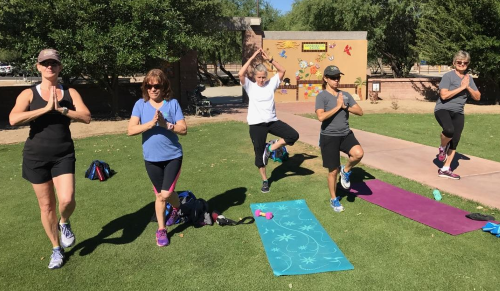 The Importance of Balance
Balance is a critical part of our everyday functioning and luckily there are things you can do to improve your sense of balance, regardless of age or ability. Here are three exercises to strengthen the muscles that come into play for good balance:
Standing Knee Raises: Stand with one hand on or near a chair or table. Lift one leg slowly with your knee bent 90 degrees to hip height and maintain upright posture, with assistance from the counter as necessary. Keep your abdominals tight and hold position for 5-10 seconds, then repeat with your other leg.
Standing Toe Tap: Stand in front of a step or step stool. Slowly lift your right leg and slowly tap the step before returning it back to the floor. Try this without making any noise when touching your right leg to the step. Repeat with your left leg. Progress this exercise by looking straight ahead, not down at the step.
Hallway Walk: Walk down a hallway or on a track. Try taking 3-4 steps looking over your right shoulder, then look straight ahead for 3-4 steps, then look over your left shoulder for 3-4 steps.
---
Tucson Cancer Conquerors added 12 new photos.
Monday, 15 May 2017 7:01 pm
More great pictures from the TCC 2017 annual retreat!