Welcome to Tucson Cancer Conquerors
Tucson Cancer Conquerors is an all-volunteer, non-profit support group dedicated to empowering cancer survivors and the communities that support them to achieve optimal wellness. We offer a unique peer support environment along with creative wellness programs designed to educate, inspire, and encourage cancer survivors to be proactive about their health both during and after cancer diagnosis and treatment. Our group is run by cancer survivors and our supporters, so we understand first hand the physical and emotional challenges associated with a cancer diagnosis. With a focus on exercise, nutrition, education, and support, we are here to help you successfully navigate the journey that lies ahead. You are not alone. We have your back.
You don't have to be a cancer survivor to be part of Tucson Cancer Conquerors. Our comprehensive approach to wellness is essential to cancer prevention and benefits everyone. Cancer survivorship is about getting healthy and staying healthy. To learn more about our activities and programs explore our website, check out our Calendar and Newsletter, or click here to email us. Better yet, just grab a friend and come check us out!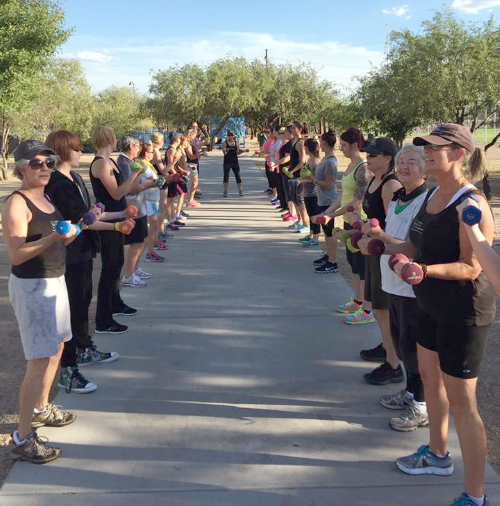 Physical activity can lower the risk of 13 types of cancer!

A new study of the relationship between physical activity and cancer has shown that greater levels of leisure-time physical activity were associated with a lower risk of developing 13 different types of cancer. This new study pooled data on 1.44 million people, and investigators were able to confirm that leisure-time physical activity was associated with a lower risk of colon, breast, and endometrial cancers, as well as 10 other cancers.
"For years, we've had substantial evidence supporting a role for physical activity in three leading cancers: colon, breast, and endometrial cancers…," said Alpa V. Patel, Ph.D., a co-author from the American Cancer Society. "This study linking physical activity to 10 additional cancers shows its impact may be even more relevant, and that physical activity has far reaching value for cancer prevention."
Click here to read the National Cancer Institute press release about the study.
---
Friday, 21 October 2016 6:21 pm
Fun lunch today with the Cancer Conquerors at Vero Amore restaurant. Thank you Suzanne Kaiser for the fabulous food!