Welcome to Tucson Cancer Conquerors
Tucson Cancer Conquerors is an all-volunteer, non-profit support group dedicated to empowering cancer survivors and the communities that support them to achieve optimal wellness. We offer a unique peer support environment along with creative wellness programs designed to educate, inspire, and encourage cancer survivors to be proactive about their health both during and after cancer diagnosis and treatment. Our group is run by cancer survivors and our supporters, so we understand first hand the physical and emotional challenges associated with a cancer diagnosis. With a focus on exercise, nutrition, education, and support, we are here to help you successfully navigate the journey that lies ahead. You are not alone. We have your back.
You don't have to be a cancer survivor to be part of Tucson Cancer Conquerors. Our comprehensive approach to wellness is essential to cancer prevention and benefits everyone. Cancer survivorship is about getting healthy and staying healthy. To learn more about our activities and programs explore our website, check out our Calendar and Newsletter, or click here to email us. Better yet, just grab a friend and come check us out!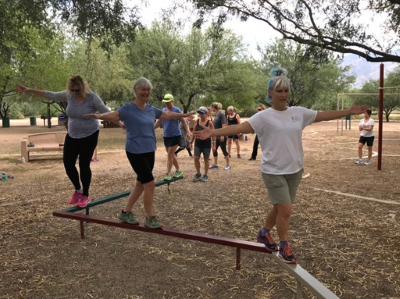 6 Things That May Improve Cancer Treatment

Physical activity – "Exercise is one of the best things women can do for themselves," says Dr. Ann Partridge at Dana-Farber Cancer Institute.
Healthy eating – A diet high in fruits and vegetables has been linked to a lower risk of breast cancer.
Yoga – Researchers have found that practicing yoga has a host of health perks, and there's also evidence that yoga may help the side effects of cancer treatment.
Sleep – Sleep is a critical part of good health, and research also suggests that the amount of sleep a woman gets is linked to better survival from breast cancer.
Meditation – Research has found that meditation is effective when it comes to treating symptoms of mood disorders that are common among women with a recent breast cancer diagnosis.
Treatment timing – Research is still in the very early stages, evidence suggests that cancer treatment might be more effective in the evening, thanks to certain bodily processes that happen at night.
For more info, click here to read the full article at Time.com.
---
Tucson Cancer Conquerors added 2 new photos.
Wednesday, 18 October 2017 12:05 pm
A big thank you to Dr. Timothy Hodges and his awesome crew at Hodges Eye Care for "drinking pink" this month for the Tucson Cancer Conquerors!
Send us a photo of your office, classroom, or soccer team drinking pink Eegees and we will post it on our Facebook pages😎