Welcome to Tucson Cancer Conquerors
Tucson Cancer Conquerors is an all-volunteer, non-profit support group dedicated to empowering cancer survivors and the communities that support them to achieve optimal wellness. We offer a unique peer support environment along with creative wellness programs designed to educate, inspire, and encourage cancer survivors to be proactive about their health both during and after cancer diagnosis and treatment. Our group is run by cancer survivors and our supporters, so we understand first hand the physical and emotional challenges associated with a cancer diagnosis. With a focus on exercise, nutrition, education, and support, we are here to help you successfully navigate the journey that lies ahead. You are not alone. We have your back.
You don't have to be a cancer survivor to be part of Tucson Cancer Conquerors. Our comprehensive approach to wellness is essential to cancer prevention and benefits everyone. Cancer survivorship is about getting healthy and staying healthy. To learn more about our activities and programs explore our website, check out our Calendar and Newsletter, or click here to email us. Better yet, just grab a friend and come check us out!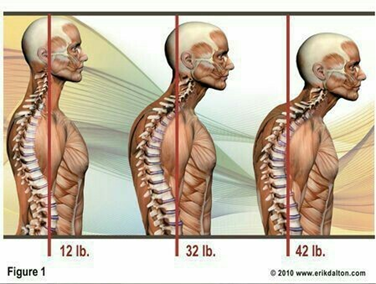 Why work on good form, core strength and stretching!
According to researchers, every inch the head moves forward of the shoulders, the weight is increased by 10 pounds. As a result, if a 12 pound head is held 3 inches forward, muscles of the neck and shoulders are forced to hold up 42 pounds against the unrelenting force of gravity.
The increased pressure imposed on the neck from this altered posture flattens the normal curve of the cervical spine resulting in abnormal strain of muscles, ligaments, and bones. This causes increased aging of inter-vertebral joints resulting in degenerative disc disease, osteoarthritis, and osteoporosis.
This poor posture can be the result of daily activities such as stressful driving or long periods of inactivity sitting slumped at a computer desk. The repercussions of poor posture go far beyond just looking awkward and can lead to chronic neck / back pain, headaches, and TMJ. Correction of this poor posture is the key to halting and reversing what can end up being a permanent deformity with chronic pain.
We can help! Come and join us every Tuesday and Saturday to gently stretch muscles that are tight and strengthen those that are weak. You will have fun, feel better, and stand taller!
Click here to read more about this subject at IndyMuscleTherapy.com.
---
Sunday, 16 July 2017 9:34 am
A little clip of the talented musicians (and their tiny dancers Abigail and Cam) that performed at The Rock for us Friday night.