Welcome to Tucson Cancer Conquerors
Tucson Cancer Conquerors is an all-volunteer, non-profit support group dedicated to empowering cancer survivors and the communities that support them to achieve optimal wellness. We offer a unique peer support environment along with creative wellness programs designed to educate, inspire, and encourage cancer survivors to be proactive about their health both during and after cancer diagnosis and treatment. Our group is run by cancer survivors and our supporters, so we understand first hand the physical and emotional challenges associated with a cancer diagnosis. With a focus on exercise, nutrition, education, and support, we are here to help you successfully navigate the journey that lies ahead. You are not alone. We have your back.
You don't have to be a cancer survivor to be part of Tucson Cancer Conquerors. Our comprehensive approach to wellness is essential to cancer prevention and benefits everyone. Cancer survivorship is about getting healthy and staying healthy. To learn more about our activities and programs explore our website, check out our Calendar and Newsletter, or click here to email us. Better yet, just grab a friend and come check us out!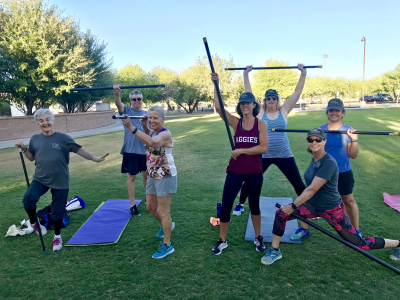 Common Myths About Exercise

Here are some common myths – and the real truth – about exercise.
1. Myth: You can target your fat burn. Truth: Working out can reduce overall fat, but you can't control on what part of your body.
2. Myth: Lifting heavy weights bulks up women. Truth: Lifting weights tones your body, and can prevent loss of muscle mass and bone density.
3. Myth: Crunches are the best moves for your core. Truth: Crunches are one of the least effective exercises -increase your cardio workouts and add resistance training that targets the entire core.
4. Myth: Exercise can erase a bad diet. Truth: Diet and nutrition actually play a larger role in weight management and cancer prevention.
5. Myth: When you stop strength training, muscle turns to fat. Truth: When you stop , you lose muscle mass and your metabolism slows down, which can lead to weight gain.
6. Myth: You need to spend hours in the gym. Truth: To get the most out of your workout, exercise smarter by strength training before doing aerobic exercises.
7. Myth: Stretch before exercising. Truth: It's more effective to stretch after you exercise when muscles and joints are warm.
Click here to read the full article on the MD Anderson website.
---
Sunday, 17 June 2018 9:27 am
The rain didn't stop us from working out yesterday morning! Join us Tuesday's at 5:30pm and Saturday's at 7:00am for workout, no matter the weather!
To view the very latest TCC postings, please click here to visit our Facebook page.