Welcome to Tucson Cancer Conquerors
Tucson Cancer Conquerors is an all-volunteer, non-profit support group dedicated to empowering cancer survivors and the communities that support them to achieve optimal wellness. We offer a unique peer support environment along with creative wellness programs designed to educate, inspire, and encourage cancer survivors to be proactive about their health both during and after cancer diagnosis and treatment. Our group is run by cancer survivors and our supporters, so we understand first hand the physical and emotional challenges associated with a cancer diagnosis. With a focus on exercise, nutrition, education, and support, we are here to help you successfully navigate the journey that lies ahead. You are not alone. We have your back.
You don't have to be a cancer survivor to be part of Tucson Cancer Conquerors. Our comprehensive approach to wellness is essential to cancer prevention and benefits everyone. Cancer survivorship is about getting healthy and staying healthy. To learn more about our activities and programs explore our website, check out our Calendar and Newsletter, or click here to email us. Better yet, just grab a friend and come check us out!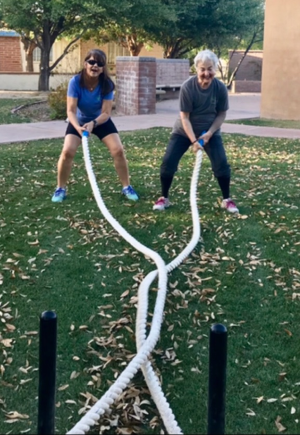 Exercise Found to Reduce the Risk of Dementia
Not sure if exercise is right for you? A recent study found that a high level of cardiovascular physical fitness in women is associated with close to a 90% reduction in dementia risk in later life!
In addition, the study found that when highly fit women did develop dementia, they developed it an average of 11 years later than women who were moderately fit, or at age 90 instead of age 79.
So now is the time to grab a buddy and get your chemo-brain to to one of our Get Fit classes!
Click here to read the full article on the Medscape website.
---
Tuesday, 15 May 2018 9:05 am
Have you ever wondered what exercises you should do if you have breast cancer? We think our TCC workouts are pretty spot on according to this doctor's recommendations. https://m.youtube.com/watch?v=qso3ZZZYwj0&sns=fb
To view the very latest TCC postings, please click here to visit our Facebook page.