Welcome to Tucson Cancer Conquerors
Tucson Cancer Conquerors is an all-volunteer, non-profit support group dedicated to empowering cancer survivors and the communities that support them to achieve optimal wellness. We offer a unique peer support environment along with creative wellness programs designed to educate, inspire, and encourage cancer survivors to be proactive about their health both during and after cancer diagnosis and treatment. Our group is run by cancer survivors and our supporters, so we understand first hand the physical and emotional challenges associated with a cancer diagnosis. With a focus on exercise, nutrition, education, and support, we are here to help you successfully navigate the journey that lies ahead. You are not alone. We have your back.
---
Tickets on sale now!
TCC Holiday High Tea - Sunday, December 15, 2019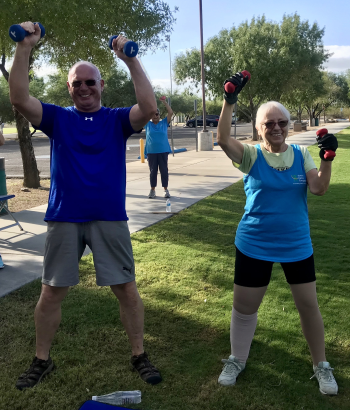 Exercise helps lymphedema!

Getting motivated to exercise can be a challenge for cancer survivors who often deal with other concerns like lymphedema which is swelling of an extremity due to damaged or removed lymph nodes.
Exercise helps by making muscles contract and push lymph through the lymph vessels, decreasing congestion of fluids and improving swelling. At TCC we have several certified trainers to supervise a fun and safe workout environment!
Click here to learn more about how exercise helps lymphedema at Cancer Research UK.