Welcome to Tucson Cancer Conquerors
Tucson Cancer Conquerors is an all-volunteer, non-profit support group dedicated to empowering cancer survivors and the communities that support them to achieve optimal wellness. We offer a unique peer support environment along with creative wellness programs designed to educate, inspire, and encourage cancer survivors to be proactive about their health both during and after cancer diagnosis and treatment. Our group is run by cancer survivors and our supporters, so we understand first hand the physical and emotional challenges associated with a cancer diagnosis. With a focus on exercise, nutrition, education, and support, we are here to help you successfully navigate the journey that lies ahead. You are not alone. We have your back.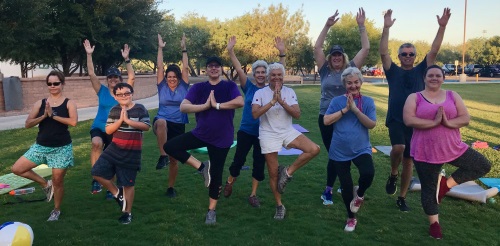 Core Exercises to Improve Balance

TCC Get Fit classes focus on functional fitness - exercises that mimic the movements of everyday life. Balance is a vital component of health and physical performance and is essential for activities of daily living like climbing stairs, squatting to pick something up, or carrying heavy loads.
Good balance through core strength allows us to compensate for unexpected changes in the direction our bodies are moving and is especially important for older adults hoping to reduce the risk of falls and injuries.
Click here to learn more about core exercises from the American Council on Exercise.