Welcome to Tucson Cancer Conquerors
Tucson Cancer Conquerors is an all-volunteer, non-profit support group dedicated to empowering cancer survivors and the communities that support them to achieve optimal wellness. We offer a unique peer support environment along with creative wellness programs designed to educate, inspire, and encourage cancer survivors to be proactive about their health both during and after cancer diagnosis and treatment. Our group is run by cancer survivors and our supporters, so we understand first hand the physical and emotional challenges associated with a cancer diagnosis. With a focus on exercise, nutrition, education, and support, we are here to help you successfully navigate the journey that lies ahead. You are not alone. We have your back.
---
Tickets on sale now!
TCC Holiday High Tea - Sunday, December 15, 2019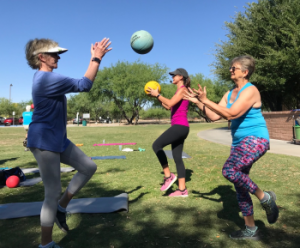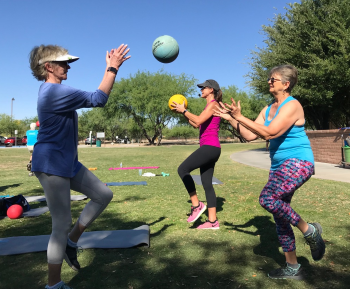 Functional Fitness!

Functional fitness exercises are designed to train and develop your muscles to make it easier and safer to perform everyday activities, such as carrying groceries up a few steps or playing a game of basketball with your kids.
Our Functional Fitness activities improve balance and muscle agility and strength, reducing the risk of injury and falls. Come and join us - its fun!
Click here to learn more about functional fitness at MayoClinic.org.