Welcome to Tucson Cancer Conquerors
Tucson Cancer Conquerors is an all-volunteer, non-profit support group dedicated to empowering cancer survivors and the communities that support them to achieve optimal wellness. We offer a unique peer support environment along with creative wellness programs designed to educate, inspire, and encourage cancer survivors to be proactive about their health both during and after cancer diagnosis and treatment. Our group is run by cancer survivors and our supporters, so we understand first hand the physical and emotional challenges associated with a cancer diagnosis. With a focus on exercise, nutrition, education, and support, we are here to help you successfully navigate the journey that lies ahead. You are not alone. We have your back.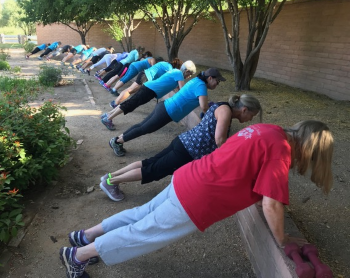 Planks Anyone?!

The plank is one of the best exercises for core conditioning as it improves posture, supports a healthy back, enhances overall movement and coordination, and tones your midsection. We love planks at TCC and can modify them so they are safe for everyone. Even people with back issues can work their core safely because, unlike crunches, they don't require flexion of the spine. And the best thing about planks? You can do them just about anywhere, so come to the park and do them with us!