Welcome to Tucson Cancer Conquerors
Tucson Cancer Conquerors is an all-volunteer, non-profit support group dedicated to empowering cancer survivors and the communities that support them to achieve optimal wellness. We offer a unique peer support environment along with creative wellness programs designed to educate, inspire, and encourage cancer survivors to be proactive about their health both during and after cancer diagnosis and treatment. Our group is run by cancer survivors and our supporters, so we understand first hand the physical and emotional challenges associated with a cancer diagnosis. With a focus on exercise, nutrition, education, and support, we are here to help you successfully navigate the journey that lies ahead. You are not alone. We have your back.
You don't have to be a cancer survivor to be part of Tucson Cancer Conquerors. Our comprehensive approach to wellness is essential to cancer prevention and benefits everyone. Cancer survivorship is about getting healthy and staying healthy. To learn more about our activities and programs explore our website, check out our Calendar and Newsletter, or click here to email us. Better yet, just grab a friend and come check us out!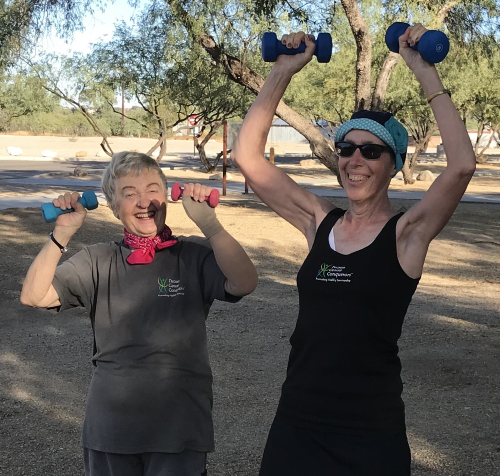 Exercise Benefits for Lymphedema

Have you had radiation or lymph nodes removed and are now afraid to exercise because of potential extremity swelling, aka lymphedema?
We know from research that exercise makes the muscles contract and helps to push lymph through the lymph vessels. In fact, not exercising may "place the arms of breast cancer survivors concerned with lymphedema at greater risk than a supervised program of slowly progressive exercise training."
The results of a recently completed study supports the safety of upper-body exercise among breast cancer survivors with and at risk for lymphedema. Many of our members exercise with light weight or no weights at all and still get tremendous benefit. Anyone can do this!
Click here to read the full article on the National Center for Biotechnology Information website.
---
Friday, 20 April 2018 8:00 am
At Tucson Cancer Conquerors, we have something for everyone! If you aren't able to work out with us, join our walking crew at 8:00am on Saturday mornings at Brandi Fenton Park!