About Tucson Cancer Conquerors, Inc.
~ Empowering Cancer Survivors and the Communities that Support them to Achieve Optimal Wellness ~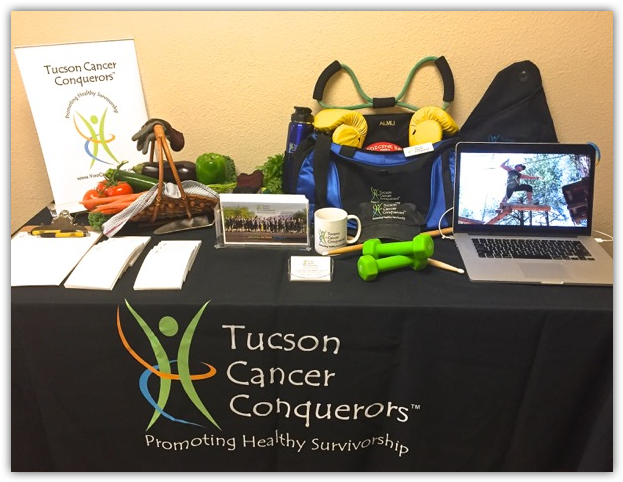 Tucson Cancer Conquerors, Inc., (TCC), is a 501(c)3 organization whose mission is to provide social activities and support to those affected by cancer, or caring for someone with cancer, by offering them wellness and wholeness for the journey.
All of the programs are available to anyone wishing to participate and are intended to be affordable and accessible to those interested in participating. The activities are intended to be self-supported; however, TCC will offset costs whenever possible, in the event of a member's financial hardship.
Our activities include but are not limited to:
Presentations or outings focused on improving self-esteem for those dealing with the changes cancer treatment can create.
Matching members to provide to opportunities for discussions with those who have had similar experiences or treatments.
Social activities and networking opportunities.
Physical activities and exercise programs.
Tucson Cancer Conquerors Board of Directors and Advisory Board
Click here to view TCC Board of Director biographies.
Click here to view TCC Advisory Board biographies.
Executive Board Members
Liz Almli - President
Lana Holstein - Vice President
Debbie Davis - Treasurer
Sherry Evans - Secretary
Mary Specio-Boyer - Executive Director
Board Members
Pam Chess
Deb Heilig
Kristin Linne
Mary Lou Martinez
Cathy Pensak
Advisory Board Members
Ken Harvey - Executive Chef, Loews Ventana Canyon Resort
Dawn Messer OD MPH - Master Gardener, Founder of Mindful Meandering
Marilyn Croghan M.D. - Radiation Oncologist, Arizona Oncology Associates
Jon Davison PT - Proactive Physical Therapy
Pandora Larsen CPT - Wellness Coordinator Northwest YMCA
Marlyne Freedman
Tucson Cancer Conqueror Board Committees
Get Active Committee
Chair: Liz Almli
Fitness Classes: Recruitment and training of new instructors, teach classes. Order and maintenance of equipment. Recruitment through community outreach. Retention of current class members. Fitness related adventures. Corporate sponsor workouts.
Gardening: Sub-committee to coordinate weeding, planting and harvesting of our organic garden.
Mindful Meandering: Stress management, mindfulness, with assistance of member Dawn Hull
Monthly Hikes: Organized with assistance of Board member Deb Heilig
Get Social Committee
Chair: Pam Chess
Social Events: Coordination of lunches, dinners, holiday party, happy hour gatherings
Coffee Café: Coordination of Saturday snacks
Social Connection: Peer support system
Yearly Retreat: Planning and coordination
Community Outreach: Educational programs, pamphlet distribution in local provider offices
Community Participation: Coordination of participation in support walks, event booths
Member Contact Information: Maintenance of member contact directory, event Evites, "One of our own" emails
Get Support Committee
Chair: Lana Holstein | Vice Chair: Sherry Evans
Resource Center: Book library, room maintenance, insurance, space-sharing coordination
Pima County Liaison: Rules and compliance, event logistics, including power/heat/microphones/tents
Printed materials: Letterhead, thank-you notes, pamphlets, donor letters
Class Documentation: Maintenance of class rosters, releases, fee payments
Communication and Fundraising
Chair: Deb Heilig | Vice Chair: Mary Specio-Boyer
Special Events: Coordination of Annual Car Raffle Ticket Sales
Donor Solicitation : Letters, community partnerships, Friends of TCC campaign
Grants: Identification, submission
Local Media: Communication, news releases
Marketing: Website, Social Media with assistance of member Lauren Evans
Monthly Email Newsletter
Sponsors and Supporters of Tucson Cancer Conquerors
We would like to thank our Sponsors and Supporters for allowing TCC to make our programs and activities available to the Tucson community!
If you are interested in becoming a sponsor or supporter of TCC, please email your contact information to info@tucsoncancerconquerors.org or call 520-505-1406 and leave a voice mail message. A member of the TCC Board of Directors will contact you as soon as possible to discuss sponsorship opportunities.
If you would like to make an individual donation, please visit the Support TCC page of our website.