About Tucson Cancer Conquerors, Inc.
~ Empowering Cancer Survivors and the Communities that Support them to Achieve Optimal Wellness ~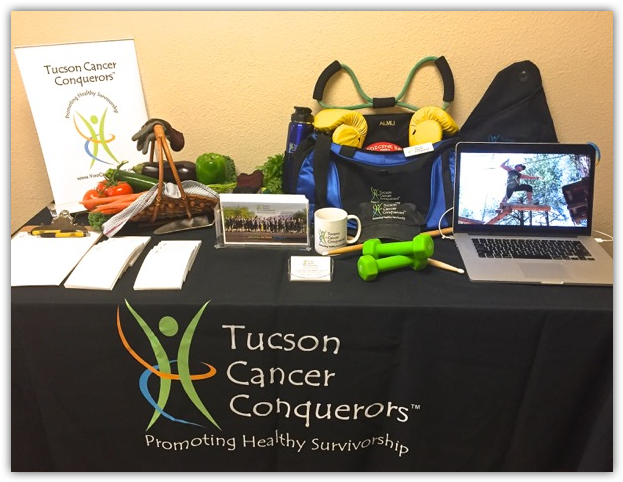 Tucson Cancer Conquerors, Inc., (TCC), is a 501(c)3 organization whose mission is to provide social activities and support to those affected by cancer, or caring for someone with cancer, by offering them wellness and wholeness for the journey.
All of the programs are available to anyone wishing to participate and are intended to be affordable and accessible to those interested in participating. The activities are intended to be self-supported; however, TCC will offset costs whenever possible, in the event of a member's financial hardship.
Our activities include but are not limited to:
Presentations or outings focused on improving self-esteem for those dealing with the changes cancer treatment can create.
Matching members to provide to opportunities for discussions with those who have had similar experiences or treatments.
Social activities and networking opportunities.
Physical activities and exercise programs.
Tucson Cancer Conquerors Board of Directors and Advisory Board
Click here to view TCC Board of Director biographies.
Click here to view TCC Advisory Board biographies.
Executive Board Members
Liz Almli - President
Lana Holstein - Vice President
Debbie Davis - Treasurer
Sherry Evans - Secretary
Mary Specio-Boyer - Executive Director
Board Members
Kristin Linne
Cathy Pensak
Ginny Spencer
Jennifer Schmidt
Legacy Board Members
Pam Chess
Advisory Board Members
Ken Harvey : Executive Chef, Loews Ventana Canyon Resort, TCC Garden
Dawn Messer OD MPH : Founder of Mindful Meandering, Master Gardener, TCC Garden
Pandora Larsen CPT : Lifestyle Director at Highlands at Dove Mountain, TCC Fitness Team
Leona Downey MD : Breast Oncologist, TCC Fitness Team - Yoga
Rocky LaRose: Retired AD University of Arizona, TCC Photographer
Tucson Cancer Conqueror Board Committees
Get Active
Liz Almli MD : Certified Cancer Exercise Trainer
Fitness: Kristin Linne, Certified Personal Trainer: Schedule coordination of fitness instructors, teach classes. Ordering and maintenance of equipment. Outreach to new, and retention of current, class members. Fitness related adventures.
Gardening: Mary Anderson and Diane Colman-Fields: Planning and coordination of garden committee members to plant, tend, and harvest our organic garden.
Mindful Meandering: Dawn Hull Messer: Mindful walks focused on gratitude and Stress management
Second Sunday Hikes: Deb Heilig: Guided Hikes through Tucson's many beautiful trials.
Loop Walkers: Tori Stypula: Saturday morning walking group along the River park loop.
Get Social Committee
Chair: TBD
Social Events: Lunches, Dinners, Holiday Party, Happy Hour
Yearly Retreat
Community Participation: Walks, booths at events
Celebration Committee: Ginny Spencer: Birthday celebrations and special events
Coffee Café: Marylou Martinez.
Saturday Snacks Coordination

Jenny Waters: Snack assignments
Nancy Pearson: Recycling
Get Support Committee
Chair: Lana Holstein
Resource Center: Sarah Schulman: Book library, book groupies
Community Outreach: Melinda Aragon: pamphlets distribution
Education: Cathy Pensak: Programming and evaluation
Member Support: Ambre Cole / Cathy Pensak: Caring Baskets and Chemo Bags
Environmental: Jean Thomas: Building safety and cleanliness
Memorial Tiles: TBD
New Member Ambassadors: Gila Ben-Jamin, Loretta Hall: Guides for new members, Welcome bags
Communication 
Liz Almli
Website, Newsletter, Social Media
High Tea; Ticket sales and auction/raffle payment processing
Administrative Support:
Sherry Evans / Kristin Linne
Pima County Liaison: logistics and scheduling for events
Printed materials: Letterhead, thank you notes, pamphlets, donor letters
Member Data: Maintenance of class rosters, releases, fees
Legal/ Compliance
Mary Specio-Boyer
County Report : Annual
501c3 non-profit compliance
Liability Policy
Trademark
Public Relations/Sponsorship:
Terie Tutt / Nancy Vornholt
Social Media
Sponsorships
Donor Recognition/ Appreciation
Fundraising / High Tea: Liz Almli
Ashley Drew: Auction and Raffle
Deb Heilig: IT  On-Line Registration / Event Check-out
Jennifer Schmidt: Volunteers / Event Check-in
Sponsors and Supporters of Tucson Cancer Conquerors
We would like to thank our Sponsors and Supporters for allowing TCC to make our programs and activities available to the Tucson community!
If you are interested in becoming a sponsor or supporter of TCC, please email your contact information to info@tucsoncancerconquerors.org or call 520-505-1406 and leave a voice mail message. A member of the TCC Board of Directors will contact you as soon as possible to discuss sponsorship opportunities.
If you would like to make an individual donation, please visit the Support TCC page of our website.