The holidays are upon us and we are getting geared up with a lovely luncheon to celebrate…You! Our reason for success is because each of you shows up to share a part of yourselves and to participate in the activities with our group. We are grateful to have had this year together.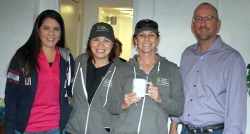 November brought us the good fortune to celebrate a community partnership with eegees. In addition to raising awareness about the Conquerors by selecting us as their partner during October Breast Cancer awareness month, they also provided a generous donation from their Drink Pink campaign that will all be invested back into our many support programs. It was a pleasure to host their company President, Robert, and Tina, Executive Administrator at our Saturday morning coffee café where they had the opportunity to see who we are and what we do - personally. Words cannot really describe us, so having them visit was a real treat. Watch for more opportunities to get to know them in the future, and maybe even enjoy an eegees today to show your appreciation!
The strategic planning session held by the Board was a success because of your feedback. We have some new thoughts on how we can raise awareness of our organization for those in need, provide educational and peer support activities, and create opportunities for family involvement. We are utilizing some of our new funds to encourage active membership in the Tucson Cancer Conquerors, as well as honor our supporters. Caring for the future and the fiscal health of the organization has been a big part of our work this year, and we look forward to continued success in the years to come.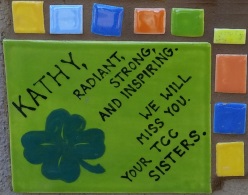 An important part of our organization are the compassionate and caring hearts of our members as we provide support to those and their families dealing with loss. This month we hosted Kathy McClard's family and friends at the Brandi Fenton Memorial Garden for her tile setting, where we shared fun memories and celebrated Kathy's amazing life. We are here to support the families of our members and are grateful they stay connected with our group. It is our hope that we were able to bring some joy into her journey as we know she brought joy and inspiration into ours. The cancer experience is a challenging one. We face success together and we face challenges together. Tucson Cancer Conquerors is committed to bringing comfort, education and support to those affected by cancer. Each of the moments we share are precious, and the memories we create are priceless.
Enjoy your holidays, Conquerors. We wish you and your loved ones health and happiness during this holiday season.
The Tucson Cancer Conquerors Board

Upcoming TCC Events
Please be sure to put these events on your calendar and check the Calendar on our website frequently for updates.
Important Note: We understand some people have not been receiving the EVITES sent out for some of our events. If that includes you, please email us at info@tucsoncancerconquerors.org and let us know your email address so we can make sure you receive.
• December 1st, Tuesday, 6:30 PM, Brandi Fenton Park: Monthly Birthday Dinner - Join us after the 5:30 exercise class for a Pot Luck dinner to celebrate our December birthdays. Chef Ken Harvey will be bringing a culinary treat from our very own organic garden! Please be sure to RSVP to EVITE if you plan to attend.
• December 4th, Friday, 12:00 Noon, La Paloma Country Club: TCC Annual Holiday Luncheon - This year's Holiday Luncheon at the La Paloma Country at 3660 E Sunrise Drive in Tucson, (click here for a Google Map). We are at capacity for this event and will be unable to accommodate any additional attendees. For those attending, we will have DVDs for sale of Liz's Year-In-Review, with all proceeds going to TCC! They're just $10 and please bring exact change if you plan to buy one.
Important Note: There will not be another lunch in December, but be sure to watch for the EVITE with information about where we will be having lunch in January!
• December 5th, Saturday, Westin La Paloma Resort: Arizona Oncology Foundation's Festival of Trees & Lights - Get into the holiday spirit while supporting this amazing organization. Join the party and bid on designer holiday trees and wreaths just in time for Christmas. Enjoy the Celebration of Lights for Hanukkah with a fantastic collection of Menorah's. Tickets are $75 and can be purchased on the Arizona Oncology Foundation website.
• December 13th, Sunday, 8:00 AM, TCC Second Sunday Hike: Pima Canyon - Join us for the first adventure of the TCC Second Sunday Hiking Group! We will hike Pima Canyon, a moderate four mile round-trip hike with a little altitude gain and, hopefully, some running water in the creek. Friends and family are welcome too! Meet at the Iris Dewhirst trailhead parking lot, (click here for a Google Map), located at the far east end of E Magee Road. Click here to email Deb Heilig if you plan to attend or for more information.

• December 13th, Sunday, 1:00 PM to 4:00 PM, Arizona Inn, 2200 E Elm Street: The Mad Hatter's Tea - An Afternoon in Wonderland, benefiting the American Cancer Society - Join TCC at this great event to support research for a cure. It will be a really fun afternoon with friends and a great way to kick off the holidays! Tickets are $50.00 per person and can be reserved by contacting Zoe Burcham at (520) 323-4217 or emailing her at zoe.burcham@cancer.org.

• January 5th, 2016, Tuesday, 6:30 PM, Lucky Strike Bowling Alley: Birthday Party - Let's start the New Year out with a birthday dinner and bowling at the Lucky Strike Bowling Alley on Speedway Boulevard just east of Alvernon! The cost will be $20.00 per person and includes the cost of bowling and shoes, PLUS pizza, salad, and birthday cake. If you just want to attend the dinner, the cost will be $10.00 per person. We need to confirm our head count no later than January 2, 2016, so please sign up at Brandi Fenton Park during any upcoming event or RSVP to the EVITE that will be sent soon.
Important Note: There will be no class at the park this Tuesday, January 5th – bowling will be our workout!
• January 9th, 2016, Friday, 9:15 AM, Brandi Fenton Park: TCC Education Event - Compassionate Care: Facing Life's Challenges - Please join us as we explore together what it means to be compassionate towards ourselves and others when life goes off track and we feel lost around our response. Participants will have the opportunity to share and explore their own journey with life's challenges and learn how to support others. This event will be facilitated by Julee Gell LCSW, a Tucson based therapist who specializes in grief and loss issues. A sign-up sheet is now available at Brandi Fenton Park or email you can email us at info@tucsoncancerconquerors.org if you would like to attend.
• April 15th - 17th, 2016, Friday through Sunday: TCC Annual Retreat - START SIGNING UP NOW for the TCC Annual Retreat to Laughlin, Nevada! First clue - we are staying at the Aquarius Casino and Resort. The cost is $350 per person, all inclusive for double occupancy or $425 for single occupancy. Space is limited to 45 people and your deposit to guarantee your slot is due by January 15, 2016.
Registration forms are available in the TCC office at Brandi Fenton Park or you can email info@tucsoncancerconquerors.org to have a form emailed to you. If you plan to attend but do not have a roommate, Arlene Kutoroff or Pam Chess will be happy to help you find one. Scholarships are also available and you can contact Arlene Kutoroff or Pam Chess for more information, (requests are kept confidential).

TCC Exercise Class News
Exercises classes are held at Brandi Fenton Park Tuesday evenings at 5:30 PM and Saturday mornings at 8:00 AM.
For those looking for a little less strenuous activity, we have an informal group of members who stretch and warm-up with our exercise class, then walk around Brandi Fenton Park.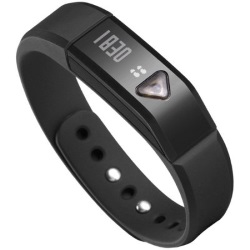 The TCC Fitness Challenge is on!
December is Month #3 – are you wearing your wrist pedometer? Tracking your fitness log? Stretching? The best time to start is NOW…
Be sure to keep your fitness log with you so you can record and be mindful of your nutrition, hydration, and fitness goals. Even if you've forgotten a few days, jump back in and stay on track! Start your day with a glass of water and have another before every meal. Be sure to spend time stretching throughout the day and if you sit at a desk get up and move every hour - you are going to need to refill your water bottle anyway…
For optimal health, plan on some sort of exercise 5 days per week. By recording your pedometer steps each day you can set new and higher goals for the weeks that follow. If you are having trouble figuring out your pedometer, bring it with you to class. Keep your goals realistic but always try to do a little more that you did the week before. By coming to TCC workouts you are almost half way there. The weather is cooling off so bundle up!
Exercise Class Payments
You can now pay for exercise classes online with Paypal in the Members Area of our website. A three month class session is only $50 for one class per week, or $75 for two classes per week. Cash or check are payable toTucson Cancer Conquerors, either of which can be given to Annie O'Connor or Joanne Gouldin. Please click here to email Annie or click here to email Joanne if you have any payment related questions.
TCC Coffee Café
Even if you don't come for exercise class, please join us at the TCC Coffee Café to share a snack, socialize and hear about all our upcoming activities! The TCC Coffee Café happens after every Saturday morning right after exercise class at Brandi Fenton Park.

TCC Resource Room
The TCC Resource Room at Brandi Fenton Park is now fully stocked with books and other items for your use! The Resource Room is open during our regularly scheduled Tuesday and Saturday exercise classes, and during the Saturday Coffee Café. Also be sure to check out some of the great online resources on our website including healthy living resources, other information resources and video resources.
NEW - Member Resource Directory
Many of our members have businesses and other members want to support these businesses. The Board has now placed a binder in the TCC Resource Center for members with private businesses to share their information. A section is available for business cards, and another section for informational literature. There is also a section for other community events that are not directly related to our partners in the cancer community. Please check out this great new resource!

TCC Garden News
Our fall garden is doing great. We have lots of leafy greens ready to harvest, (lettuce, arugula, mizuna, and bok choy), as well as some root vegetables.
We will continue to have weekly "U-Picks" on Saturday mornings after the TCC Coffee Café from 9:30 AM to 10:00AM.
If you're interested in helping out more with the garden and aren't already on the garden committee, please click here to email Master Gardener Dawn.
TCC Mindful Meanderings News
The Mindful Meanderings walks this month will be:
• Wednesday, December 9th, 8:00 AM at Sabino Canyon
• Wednesday,December 23rd, 8:00 AM at Tohono Chul Park
Please click here to email Dawn for more information or visit the Mindful Meandering Facebook page.
Mindful Quote of the Month
An early-morning walk is a blessing for the whole day. ~Henry David Thoreau
Other Important Information
TCC MERCHANDISE - New merchandise is arriving mid-December! We will have available new Crew neck and V-neck short sleeve shirts as well as a reorder of our long sleeve V-necks.
TCC merchandise is available for purchase at Brandi Fenton Park after any Tuesday evening class or Saturday morning during Coffee Café. Please see Jody Hayden or Linda Rupel if would like to purchase an item.
TCC AMAZONSMILE FUNDRAISING - Whether you shop a little or a lot on Amazon.com, please consider shopping through AmazonSmile with Tucson Cancer Conquerors as your charity of choice! Once you're registered, anytime you shop on Amazon, TCC will receive a donation of 0.5% of everything you purchase. Just go to AmazonSmile, log in or register, then select Tucson Cancer Conquerors as your charity. And pass this information along to your family and friends so they can register too!
TCC GIFT DONATIONS - We now have a way to help you celebrate birthdays, anniversaries, memorials or other special occasions! You can make a donation to Tucson Cancer Conquerors in the name of a friend or loved one, and that person will receive a personalized Tucson Cancer Conquerors acknowledgement card letting them know a generous donation was made in their name. Plus you will receive a receipt for tax purposes. Please visit the Make A Donation page on our website, or click here to email Annie O'Connor if you have questions.