Hello Conquerors!
We kicked off the New Year by celebrating January birthdays with our annual Friends and Family Bowling Event. We'd like to thank our Social Committee for the amazing job they do in planning all of our TCC social events, providing an opportunity for us to bring our families together to experience the joy of our friendships and share support.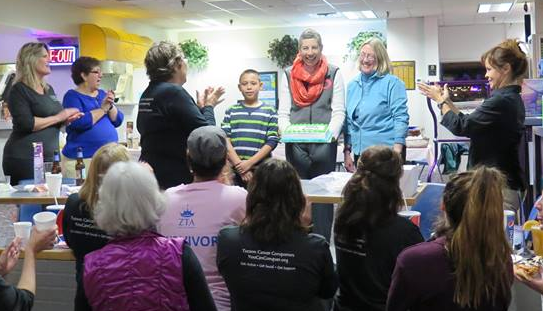 The New Year ushers in a busy but exciting time for your Board. It gives us the opportunity to reflect back on where we have come from as an organization, and to look ahead to where we would like to go in the future. Your TCC Board is committed to the Cancer Conqueror mission – Empowerment and Healthy Survivorship. As we plan for the future of TCC, we have assembled a community coalition of Advisory Board Members who have been kind enough to offer their expertise to us in their respective areas. Their willingness to donate their time to our group and support the mission of our organization is invaluable. We have been fortunate to have top professionals in their fields working with us as enthusiastic advocates for our members and programs. We would like to welcome them!
- Ken Harvey - Executive Chef, Loews Ventana Canyon Resort
- Lana Holstein, M.D. – Certified Life Coach, Lives Worth Living
- Dawn Messer OD MPH – Master Gardener, Founder of Mindful Meandering
- Debbie Davis CPA – Bass and Associates
- Marilyn Croghan M.D. – Radiation Oncologist, Arizona Oncology Associates
- Jon Davison PT - Proactive Physical Therapy
- Pandora Larsen CPT – Wellness Coordinator Northwest YMCA
For those of you considering future involvement on the board, we encourage you to take full advantage of our programs and consider volunteering on one of our many active committees. In the meantime, be sure to check the TCC Calendar on our website for details about the many fun activities we have planned. We will be watching for you!
Have a wonderful month Conquerors,
The Tucson Cancer Conquerors Board
P.S. - Please be sure to invite your friends and family to Like the Tucson Cancer Conquerors Facebook page – our goal is to reach 500 followers this year!

Upcoming TCC Events
Please be sure to put these events on your calendar and check the TCC Calendar on our website for updates and information.
Important Note: If you have not been receiving the EVITES sent out for some events, and if you want to receive them, please send your preferred email address to info@tucsoncancerconquerors.org.
• February 2nd, Tuesday, 6:30 PM, Brandi Fenton Park Visitor's Center: Monthly Birthday Dinner - This month will be a pot luck dinner and since it is Chef Ken's birthday month, he is baking a special cake! Please RSVP to the EVITE, and consider joining us for our GetFit class at 5:30 PM.

• February 3rd, Wednesday, 8:00 AM, Sabino Canyon: TCC Mindful Meandering - Join us at Sabino Canyon, 5900 N. Sabino Canyon Road, for a Mindful Meandering with Dawn. This is a slow paced meditative walk. For more information, please email Dawn.
"Be the silent watcher of your thoughts and behavior. You are beneath the thinker. You are the stillness beneath the mental noise. You are the love and joy beneath the pain."
~Eckhart Tolle
• February 13th, Saturday, 9:00 AM, Brandi Fenton Park: Fitness Assessment with Pandora - Immediately following our GetFit workout, Pandora will conduct a follow up assessment of the Cardio Step and "Sit and Reach" tests for those who are interested.
• February 14th, Sunday, 8:00 AM, Saguaro East: TCC Second Sunday Hike - This month we will enjoy a 2.75 mile loop hike in Saguaro East National Monument that starts and ends at the Douglas Spring Trailhead, located at the east end of Speedway Boulevard. Family and friends are welcome!
Please RSVP to the EVITE or email Deb Heilig if you plan to attend. Directions to the trailhead are also on the TCC Calendar listing for this event.
• February 17th, Wednesday, 8:00 AM, Tohono Chul Park: TCC Mindful Meandering - Join us at Tohono Chul Park, 7366 North Paseo Del Norte, for a Mindful Meandering with Dawn. This is a slow paced meditative walk. For more information, please email Dawn.
• February 19th, Friday, 12:00 Noon, Mimi's Cafe at Tucson Mall: TCC Monthly Luncheon - This month we will be at Mimi's Cafe at the Tucson Mall, located at 4420 N Oracle Road. Please RSVP to the EVITE if you plan to attend.
• February 22nd, Monday, 5:30 to 7:30 PM, Barrio Brewing Company: TCC Social Hour - The Barrio Brewing Company will host a trio sampling of their most popular brews along with a behind-the-scenes tour of their brewing operation! The $10 cost per person will include all social hour food and iced tea. Other beverages will be available for purchase at special social hour prices!
Adult family and friends are welcome! If you plan to attend, please sign up during any upcoming event at Brandi Fenton Park or RSVP to the EVITE, and be sure to include any guests in your RSVP. Barrio Brewing is located at 800 E 16th Street and you'll find a map on the TCC Calendar listing for this event.
Next Month and Beyond...Save The Dates!
• March 1st, Tuesday, 6:30 PM, Brandi Fenton Park Visitor's Center: Pizza Birthday Dinner - Pizza birthday dinners will now be sponsored by Tucson Cancer Conquerors. Bring a friend and check us out!
• March 5th, Saturday, 7:15 AM, Pima Community College West Campus: American Cancer Society's Climb to Conquer Cancer - Walk with Team Karen and John's Bridge Builders in memory of Karen O'Brien and to honor her husband John. Registration details are on the TCC Calendar listing, or you speak to Nancy Vornholt or Arlene Kutoroff.
• March 6th, Sunday, 6:00 AM, University of Arizona Mall: Komen Southern Arizona Race for the Cure - A Tucson Cancer Conquerors team has been set up online for those who want to participate. Please click here to go to the event website to register.
• March 13th, Sunday, 8:00 AM: TCC Second Sunday Hike


• March 18th, Friday, 12:00 Noon, La Paloma Country Club: TCC Monthly Luncheon
• April 15th - 17th, Friday through Sunday: TCC Annual Retreat - The TCC Annual Retreat to Laughlin, Nevada is full; however we do have a waiting list! Please send your name and contact information to info@tucsoncancerconquerors.org if you want to be placed on the wait list. For those already registered, watch for emails from Arlene with information about the retreat activities and meal choices.
TCC GetFit Class News
GetFit class is the TCC exercise program focused on functional fitness - strength, flexibility, balance and endurance. Anyone at any fitness level can do this! GetFit classes are held at Brandi Fenton Park Tuesday evenings at 5:30 PM and Saturday mornings at 8:00 AM.
For those looking for a little less strenuous activity, we also have an informal group of members who stretch and warm-up with the exercise class, then take a walk around Brandi Fenton Park.
The TCC GetFit Fitness Challenge is on!
Make sure you continue to track your pedometer steps, as well as your nutrition, hydration and other workouts! To give you the opportunity to assess your overall progress, on Saturday, February 13th your fitness team has scheduled Part 1 of the Fitness Challenge Evaluation - Endurance and Flexibility. Make a conscious decision to participate in a TCC activity, walk your neighborhood, take the stairs and S-T-R-E-T-C-H! It's not too late to redirect your efforts and see a difference – let's do this!

TCC Garden News
We have bountiful, beautiful winter greens just waiting to be picked. Join us for "U-Picks" on Saturday mornings after the TCC Coffee Café from 9:30 AM to 10:00AM! With the longer, warming days, we should soon have some carrots and radishes to harvest along with our greens.
In preparation for our spring garden, some TCC members recently had fun sowing seeds in trays which are now in the greenhouse. Come mid-March we should have tomatoes, peppers, eggplant, and basil to plant in our garden plots!
If you're interested in helping out more with the garden and aren't already on the garden committee, please email Master Gardener Dawn.

TCC Coffee Café
Even if you don't come for exercise class, please join us at the TCC Coffee Café to share a snack, socialize and hear about all our upcoming activities! The Coffee Café happens after every Saturday morning right after exercise class at the Brandi Fenton Park Visitor's Center.
Please consider signing up to bring Coffee Café snacks one Saturday this year. You can always partner with another member to make it easier, and you can be sure we will appreciate whatever snacks you bring! Speak to Jenny Waters about signing up.

TCC Resource Room
The TCC Resource Room at the Brandi Fenton Park Visitor's Center is being stocked with even more books and other items for your use! The Resource Room is open during our regularly scheduled Tuesday and Saturday exercise classes, and during the Saturday Coffee Café.
While you're visiting the Resource Room, be sure to check out the Member Resource Directory Binder. Inside you'll find lots of great information about our members' businesses or services, as well as general community events. Also be sure to check out some of the great online resources on our website including healthy living resources, other information resources and video resources.
Other Important Information
TCC MERCHANDISE - New merchandise will be arriving soon, but we still have some crew neck and V-neck short sleeve shirts available, as well as some long sleeve tees. TCC merchandise is available for purchase at the Brandi Fenton Park Visitor's Center after any Tuesday evening class or Saturday morning during Coffee Café. Please see Jody Hayden or Linda Rupel if would like to purchase an item.
TCC AMAZONSMILE FUNDRAISING - Remember, when you shop through AmazonSmile with Tucson Cancer Conquerors as your charity of choice, TCC will receive a donation of 0.5% of everything you purchase. Just click here to go to AmazonSmile to log in or register.
TCC GIFT DONATIONS - You can now celebrate special occasions by making a donation to Tucson Cancer Conquerors in the name of a friend or loved one! Your honoree will receive a personalized Tucson Cancer Conquerors acknowledgement card plus you will receive a receipt for tax purposes. If you prefer that your donation remains anonymous, please let us know. Visit the Make A Donation page on our website, or email Annie O'Connor if you have questions.