Hello Conquerors!
Where did the summer go? While we look forward to the cooler fall temps, the heat hasn't stopped the Conquerors from enjoying our workouts and other TCC activities.
We did manage to escape the heat one Saturday morning with a field trip to the Northwest YMCA where advisory board member Pandora Larson kindly arranged a cardio drumming class for our Get Fit class…indoors! We would like to thank Pandora and the YMCA for providing another fun opportunity to Get Fit, and for hosting us for an enjoyable coffee social hour afterward.
In partnership with BAG IT, several of our board members were fortunate to attend the ESCAPE (Encouraging and Sustaining Cancer Advocacy Programs and Efforts) conference in the beautiful setting of Miraval Arizona. The programming was comprehensive and educational with a diversity of inspirational speakers.
Our very own Cancer Conqueror Dr. Lana Holstein gave an informative and entertaining lecture on the important, and often overlooked, issues related to Cancer and Sexuality. Less exciting than Dr. Lana's subject matter, but equally critical to our organization, were the consultants who provided lectures and round table discussions on strategic planning and developing strategies to strengthen the sustainability of our organization. We also had the amazing opportunity to network with passionate advocates from all over the country doing good work in their communities.
Our month wrapped up with our annual Year-in-Review meeting for the TCC membership. The annual meeting is a good opportunity to review our Board and committee activities while providing a vision for where we are headed in the coming year. It is never too late to sign up and get involved. If you had to miss the meeting, please pick up a program survey at the coffee café. This is your organization and your feedback is important to us. Looking ahead, we will incorporate all the ideas gathered and plan another incredible year together!
We look forward to Getting Social with our members as we welcome our many traveling Conquerors back for the fall with our back on track social hour in just a few weeks! Hope to see you all there!
The Tucson Cancer Conquerors Board

Jim Click "Millions For Tucson" Annual Car Raffle - This great event is a fun and easy way to help us raise money for our programs since TCC receives 100% of proceeds from all raffle tickets we sell. And you get a chance to win the 2016 Ford Mustang Shelby GT350 valued at $57,970!

Time is running out for your chance to win this amazing Mustang! We will have raffle tickets available at all of our September Get Fit classes and all other TCC events, so please consider picking up a few. TCC is completely self supporting and your generous donation helps to make programs like our Health and Wellness Retreat affordable for so many!
The raffle tickets are one for $25 or five for $100 and you can also pick up raffle tickets any Tuesday or Saturday during a scheduled Get Fit class or email info@tucsoncancerconquerors.org to have tickets mailed to you.

Upcoming TCC Events
NEW! Click on any event title to go to the TCC Calendar listing for more information.
If you have not been receiving EVITES sent for some events, and if you want to receive them, please send your preferred email address to info@tucsoncancerconquerors.org.
IMPORTANT - Mark your calendar!
Beginning September 10th, our Saturday Get Fit exercise classes will move to 8:00 AM, followed by TCC Coffee Café at 9:00 AM.
• September 10th, Saturday, 9:45 AM, TCC Garden Meeting: Felicia's Farm - If you are interested in being involved with the TCC Garden this year, please try to attend this meeting. Dawn Messer will be giving a brief talk on Steps to a Successful Vegetable Garden, and will help us design a plan for our fall garden plots. Please sign up at TCC Coffee Café or email Dawn at timdawnmesser@gmail.com if you plan to attend.
Next Month and Beyond...Save the dates!
• May 5 - 7, 2017, TCC Annual Retreat - Mark your calendars, the 2017 TCC Annual Retreat will be in Phoenix over Cinco de Mayo weekend! We will share more details as they become available, but please be sure to save the date.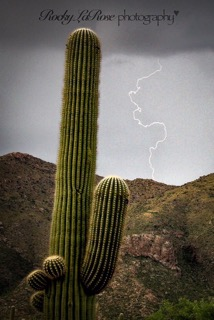 TCC Get Fit News
Part of the uniqueness of our TCC Get Active programs is that they all take place in our beautiful Tucson outdoors. There really is nothing that compares to hiking in our desert mountains, mindfully meandering through Sabino Canyon, gardening at Felicia's farm or participating in a Get Fit workout with 30 of your closest friends at Brandi Fenton Park.
We often find relief from the heat of the Tucson summers with our seasonal monsoons that cool things off with welcomed rains. But with these rains can come powerful electrical storms that are spectacular to watch and tempting to photograph…but can be very deadly. In fact, it doesn't even have to be storming in your vicinity to be struck by lightning – lightning can travel nearly 10 miles through sunny skies before it reaches the ground. If you are outdoors and you hear thunder, seek shelter indoors and away from windows. Even your car is not safe.
Those who die from lightning strikes are usually in cardiac arrest. Your heart relies on coordinated electrical activity to effectively pump blood and a jolt of electricity stops the heart. For unconscious lightning victims call 911 and perform CPR until a defibrillator arrives. Also click here to check out more important lightning safety tips on our TCC main webpage!
Remember: When Thunder Roars – Go Indoors!
Our walking group is growing and going strong. If you can walk, you can do it. You just need to take that first step and GET MOVING. We have something for everyone so bring a friend and Join us!
Change your vocabulary from "Exercise and Diet" to "Train and Eat". It's way more fun!
~ Chris Freytag
Get Fit class is focused on functional fitness - strength, flexibility, balance and endurance. Anyone at any fitness level can do this! Classes are held at Brandi Fenton Park Tuesday evenings at 5:30 PM and Saturday mornings at 7:00 AM through September 3rd.
IMPORTANT - Mark your calendar!
Beginning September 10th, our Saturday Get Fit exercise classes will move to 8:00 AM, followed by TCC Coffee Café at 9:00 AM.
Exercise Class Payments
Great news! We can now process a credit or debit card payment at any TCC event with our Square! Please see Joanne Gouldin or Deb Heilig if like to take advantage of this option to pay for class with your credit or debit card. You can also use a credit or debit card to pay online through Paypal in the Members Area of our website, and of course you can still pay with cash or a check payment, (checks payable toTucson Cancer Conquerors). Check or cash payments can be given to either Annie O'Connor or Joanne Gouldin.

TCC Garden News
In our summer garden the butternut squash vine has finally really taken off, so hopefully butternut squash will be on the menu for our October potluck. Butternut squash is a winter squash.
Both winter and summer squash grow in the summer. The difference is that summer squash must be eaten when fresh, while winter squash matures on the vine until the skin is hard and can be stored for use in winter.
Why eat butternut squash, besides the fact that they are delicious? One cup of butternut squash provides a whopping 437% of your vitamin A needs for the day, as well as 52% of vitamin C and 10% or more of vitamin E, thiamin, niacin, vitamin B-6, folate, pantothenic acid, magnesium and manganese.
If you are interested in being involved with the TCC Garden this year, please try to attend our meeting Saturday, September 10th at 9:45 AM at Felicia's Farm. Dawn Messer will be giving a brief talk on Steps to a Successful Vegetable Garden, and will help us design a plan for our fall garden plots. For more information, please contact Dawn at 520-975-4839 or timdawnmesser@gmail.com.
TCC Coffee Café
Even if you don't come for exercise class, please join us at the TCC Coffee Café to share a snack, socialize and hear about all our upcoming activities! The Coffee Café happens after every Saturday morning right after exercise class at the Brandi Fenton Park Visitor's Center.
Please consider signing up to bring Coffee Café snacks one Saturday this year. You can always partner with another member to make it easier, and you can be sure we will appreciate whatever snacks you bring! Speak to Jenny Waters for more information.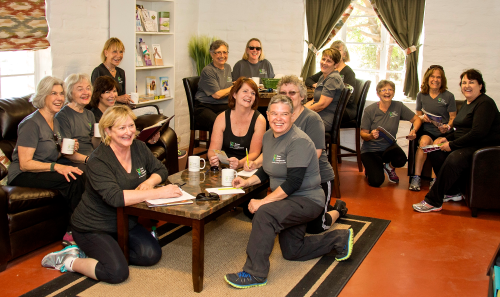 TCC Resource Room
We invite you to come down the hall to the Resource Room on Saturdays during Coffee Café. After announcements, bring your coffee and snack, and settle into comfy furniture while you leaf through information about community resources, or consider a book to borrow from our lending library.
This month we highlight a wonderful book written by our very own member and Cancer Conqueror, Dr. Lana Holstein and her husband Dr. David Taylor: Your Long Erotic Weekend: Four Days of Passion for a Lifetime of Magnificent Sex.

Lana is a family physician, a sex and couples therapist, and a life coach. In this book she and her husband share their experience and wisdom in guiding couples on the "delightful voyage of discovery of their sexual potential," leading to greater enjoyment, a deeper openness, intimacy, and bond with each other.
This book is for everyone, whether or not you have a partner or have had cancer, and will awaken your own "inner goddess," reconnect you with your sensuality, and help you regain your vitality and love of life.

TCC Caring Baskets
We are always looking for creative ways to offer support to our members who are encountering major life changes or challenges. TCC is providing personalized items to these members to offer inspiration, nurturing, and support. We hope that this gesture will help members know how special they are to TCC and that we stand ready support them in any way we can during difficult times.
If you know a member who could use a little extra TLC please let us know. If you have any questions, click here to email Annie O'Connor.
Other Important Information
TCC Merchandise - We will be receiving our next order of TCC merchandise very soon. We'll let you know when the new merchandise has arrived and is available for purchase.
TCC Amazon Smile Fundraising - Remember, when you shop through AmazonSmile with Tucson Cancer Conquerors as your charity of choice, TCC will receive a donation of 0.5% of everything you purchase. Just click here to go to AmazonSmile to log in or register.
TCC Gift Donations - You can now celebrate special occasions by making a donation to Tucson Cancer Conquerors in the name of a friend or loved one! Your honoree will receive a personalized Tucson Cancer Conquerors acknowledgement card plus you will receive a receipt for tax purposes. If you prefer that your donation remains anonymous, please let us know. Visit the Make A Donation page on our website, or email Annie O'Connor if you have questions.
We would like to express our heartfelt thanks to the following supporters for their donations last month
Nancy Pearson
Jack and Sarah Schulman Gift Fund
Thank you to all who contributed to our Cancer Conquerors American Cancer Society Auction Basket!
Sherry Evans | Pam Chess | Penny Cheshier | Lisa Brower | Liz Almli | Janet Thompson | Pam Andros | Lana Holstein | Jean Thomas | Sue Gilles | SkyLee Edmiston | Bonnie Borenson | Arlene Kutoroff | Ramona Hendricks | Mary Lou Martinez | Rose Chamberlain | JoJo Gouldin | Annie O'Connor | Heidi Goldman | Mary Specio-Boyer | Ken Harvey | Loews Ventana Canyon | Goodness Restaurant | Lindi Laws | Alissa Searby | Deb Heilig | Nancee Lutz | Carole Wymer | Rocky LaRose | Jennifer Moulton | Healthy Skin Dermatology