Hello Conquerors!
September marked the beginning of the fall season with cooler temperatures for all of our TCC outdoor activities. With the beautiful weather comes lots of opportunities to "Get Active" by joining us for Second Sunday Hikes, Gardening at Felicia's Farm, Mindful Meandering with Dawn, and Get Fit Classes.
With summer travels over, the Conquerors were busy indoors too with a back in action Social Hour at Brother Johns BBQ. Thank you to the Social Committee for arranging this fun evening out with friends and family – be sure to watch our calendar for the next one.
Our quarterly educational event was informative and entertaining as Dr. Scott Sheftel from Healthy Skin Dermatology packed the house at our Brandi Fenton clubhouse to share tips on keeping our skin healthy. He also provided breakfast, goodie bags and raffle prizes…Thank You Dr. Sheftel!
As part of our community outreach, the membership of TCC donated enough items for the American Cancer Society Silent Auction to create 4 amazing prizes for the annual ACS Gala. Some of our members were lucky enough to attend the "White-Out Cancer" event and celebrate an evening of good health, with good friends, for a good cause.
Moving ahead, the Board has an upcoming strategic planning Board session to review the program and set goals for the next year. Part of our review will address member surveys from our Year-in-Review meeting and consider member suggestions. There was a lot of wonderful enthusiasm about TCC and we greatly appreciate your input and creative ideas. As a result of your feedback, we are creating a more structured membership with many new benefits that come with being a TCC supporter.
As a first step, effective immediately, your quarterly $50 Get Fit fee will now cover 2 classes per week - we really want you to exercise!
A more detailed explanation of member benefits are on their way soon so watch for an email from the Board. Survey results will be available in the Board Meeting Minutes Notebook attached to the September 20th Board Meeting Minutes in the Brandi Fenton office.
Thank you all for your amazing support. This is YOUR organization!
The Tucson Cancer Conquerors Board


Upcoming TCC Events
NEW! Click on any event title to go to the TCC Calendar listing for more information.
If you have not been receiving EVITES sent for some events, and if you want to receive them, please send your preferred email address to info@tucsoncancerconquerors.org.
• October 21st, Friday, 12:00 Noon, Vero Amore: TCC Monthly Lunch - Come join us for our monthly lunch and get-together at Vero Amore, 2920 N Swan Road. Please watch for the EVITE and be sure to RSVP so we can plan for enough space. We are outside and they only have seating for 35 so it is essential to RSVP, PLEASE!
Next Month and Beyond...Save the dates!
• November 5th, Saturday, 2:30 PM: Member Coordinated Tour of Kitt Peak Observatory - TCC member Ambre Cole is coordinating a night tour of Kitt Peak Observatory for interested TCC members, as well as their friends and family. The group will depart Tucson at 2:30 PM and car pool for the 90 minute drive to Kitt Peak. The tour is 4+ hours and includes a box dinner. The cost $46.00 per person. If you would like to attend, please contact Ambre no later than October 5, 2016 at 520-299-8893 or click here to email.
• May 5 - 7, 2017, TCC Annual Retreat - Mark your calendars, the 2017 TCC Annual Retreat will be in Phoenix over Cinco de Mayo weekend! We will share more details as they become available, but please be sure to save the date.

TCC Get Fit News
Great News! Science has shown over and over again that exercise is good for you in so many ways. We want to encourage you to Get Fit, so effective today we are inviting everyone to attend Get Fit classes every Tuesday and Saturday for one quarterly class fee of $50. Concerned about physical limitations? Liz, Carole, and Vianca will help you with safe modifications for all of our workouts. It's time to get off the couch and get healthy!!!!

A new study of the relationship between physical activity and cancer has shown that greater levels of leisure-time physical activity were associated with a lower risk of developing 13 different types of cancer. The investigators were able to confirm that leisure-time physical activity was associated with a lower risk of colon, breast, and endometrial cancers, as well as 10 other cancers.
Click here to read the full article on the TCC home page at www.YouCanConquer.org.

Our walking group is growing and going strong. If you can walk, you can do it. You just need to take that first step and GET MOVING. We have something for everyone so bring a friend and Join us!
Fitness is not about being better than someone else...it's about being better than you used to be.
~Get Healthy U
Get Fit class is focused on functional fitness - strength, flexibility, balance and endurance. Anyone at any fitness level can do this! Classes are held at Brandi Fenton Park Tuesday evenings at 5:30 PM and Saturday mornings at 8:00 AM.
Exercise Class Payments


Great news! Effective immediately, the quarterly $50 Get Fit fee will now cover 2 classes per week - we really want you to exercise!
We can now process a credit or debit card payment at any TCC event with our Square! Please see Joanne Gouldin or Deb Heilig if like to take advantage of this option to pay for class with your credit or debit card. You can also use a credit or debit card to pay online through Paypal in the Members Area of our website, and of course you can still pay with cash or a check payment, (checks payable to Tucson Cancer Conquerors). Check or cash payments can be given to either Annie O'Connor or Joanne Gouldin.

TCC Garden News
We are transitioning to an all raised-bed garden. One bed will be a demonstration square foot garden, another will focus on the cancer-fighting vegetables in the Allium genus - onions, garlic, chives, scallions, and leeks. Active garden members will be planting vegetables of their choice in our other two beds.

While our summer plot is winding down, we still have an abundance of peppers (bell, poblano, and jalapeno) to harvest. Did you know that green peppers are just immature red peppers and that red peppers contain contain 1.5 times more vitamin C, 8 times more vitamin A and 11 times more beta carotene than green bell peppers?
Now that fall is here, you have two opportunities each week to come help tend to the TCC organic garden - Tuesdays at 4:15 PM and Saturday mornings at 9:30 AM. For more information, please contact Dawn at 520-975-4839 or timdawnmesser@gmail.com.
TCC Coffee Café
Even if you don't come for exercise class, please join us at the TCC Coffee Café to share a snack, socialize and hear about all our upcoming activities! The Coffee Café happens after every Saturday morning right after exercise class at the Brandi Fenton Park Visitor's Center.
Please consider signing up to bring Coffee Café snacks one Saturday this year. You can always partner with another member to make it easier, and you can be sure we will appreciate whatever snacks you bring! Speak to Jenny Waters for more information.
TCC Resource Room
We invite you to come down the hall to the Resource Room on Saturdays during Coffee Café. After announcements, bring your coffee and snack, and settle into comfy furniture while you leaf through information about community resources, or consider a book to borrow from our lending library.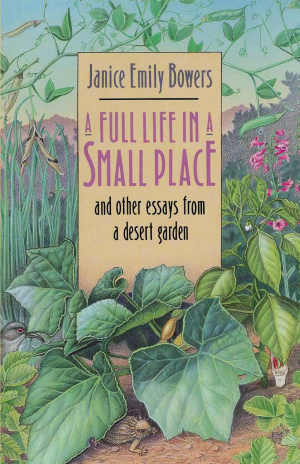 This month's highlighted book is A Full Life in a Small Place - and Other Essays from a Desert Garden, by Janice Emily Bowers.
Although a professional botanist, Janice Bowers had no interest in creating a garden of her own, insisting "I wasn't that kind of botanist." One day her husband suddenly began to outline and prepare a flower bed and, not wanting to appear unsupportive, she started helping him. The result became a flourishing flower and vegetable garden and a new source of joy and commitment as she entered her 40's.

Bowers is a poetic writer, who in a series of essays about the personal experience of maintaining a garden in the center of Tucson, touches on history, anthropology and philosophy as well as considerable knowledge about plant and animal life. Her observations about the lifecycle and interactions of insects, birds and other animals with the plants, while scientifically interesting, lead beyond that to affirmations about the miracle of life and the healthiness of diversity. "The miracle of the garden is the miracle of diversity: given life, more life comes."

TCC Caring Baskets
We are always looking for creative ways to offer support to our members who are encountering major life changes or challenges. TCC is providing personalized items to these members to offer inspiration, nurturing, and support. We hope that this gesture will help members know how special they are to TCC and that we stand ready support them in any way we can during difficult times.
If you know a member who could use a little extra TLC please let us know. If you have any questions, click here to email Annie O'Connor.
Other Important Information
TCC Merchandise - Our new logo wear has arrived! Lots of styles and sizes. Stop by the resource room during any Tuesday Birthday Dinner and Saturday Coffee Cafe' to get your gear.
TCC Amazon Smile Fundraising - Remember, when you shop through AmazonSmile with Tucson Cancer Conquerors as your charity of choice, TCC will receive a donation of 0.5% of everything you purchase. Just click here to go to AmazonSmile to log in or register.
TCC Gift Donations - You can now celebrate special occasions by making a donation to Tucson Cancer Conquerors in the name of a friend or loved one! Your honoree will receive a personalized Tucson Cancer Conquerors acknowledgement card plus you will receive a receipt for tax purposes. If you prefer that your donation remains anonymous, please let us know. Visit the Make A Donation page on our website, or email Annie O'Connor if you have questions.
We would like to express our heartfelt thanks to the following supporters for their donations last month
Virginia Morris
COPE Community Services