We started the New Year off right with our Annual Family Bowling Birthday Bash! Celebrating January birthdays at the bowling alley has become a fun tradition for TCC members and their families. Even those who find the game – and the gutters - a bit challenging, still came out to join us for dinner and cheer the rest of us on.
Our lunch group continues to explore new culinary venues and this month enjoyed checking out Scordato's Pizzaria. We were joined by many new guests who shared our enthusiasm for good friends and good food. Check out our events section to find out where we will be next. Friends and family are always welcome.
Our many programs and adventures would not be possible without the support of our community partners. This month we would like to show our appreciation to Executive Chef Ken Harvey and General Manager Derek McCann from Loews Ventana Canyon Resort for their generous support of our members.
Chef Ken has been an amazing advocate for TCC, volunteering his time and culinary skills to enhance our Organic Gardening and Nutrition Programs. As the GM of Loews, Mr. McCann has generously hosted our group at the resort for many of our activities. A heartfelt thank you to you both!
Your board recently participated in a strategic planning session to assess where we have been and to plot the 2017 direction for where we are headed with our TCC programs. We are very excited for the new year! Don't forget to please check out our website at www.YouCanConquer.org for our calendar for upcoming events and our new TCC Membership program. We have something for everyone!
The Tucson Cancer Conquerors Board
TCC Get Social Events

Click on any event below for more detailed information on the TCC Calendar
. And be sure to RSVP to the EVITES so we know you are coming!
TCC Get Active News

Get Fit classes are held at Brandi Fenton Park Tuesday evenings at 5:30 PM and Saturday mornings at 8:00 AM.
While our Saturday morning Get Fit class can start off a bit chilly, don't let that be an excuse to stay home in bed! Cold-weather exercise has the ability to boost your mood. As the body works harder to stay warm, the amount of endorphins produced also increases, leaving you with a feeling of relaxation and contentment. You'll spend the rest of your day energized, plus you'll get a healthy dose of Vitamin D from our Arizona sunshine.
As an added bonus, to stay warm on those brisk outdoor mornings your body works harder to regulate its core temperature, burning more calories and strengthening your heart muscle. PLUS, we have coffee and snacks afterward. Bundle up and join us!
Concerned about physical limitations? Anyone can do our Get Fit Classes. Liz, Carole, and Vianca will help you with safe modifications for all of our workouts.
Our walking group continues to grow! If you can walk, you can do it. You just need to take that first step and GET MOVING. We have something for everyone so bring a friend and join the walkers at 8:00 AM every Saturday!
When a girl is working out and tightens her ponytail, you know it's about to go down.
Get Fit Class Payments


Great news! Your quarterly $50 Get Fit fee covers your 2017 Membership* AND 2 fun exercise classes per week - we really want you to exercise!
*Details about how to pay for an annual TCC Membership or Get Fit fee can be found in the Help Support Tucson Cancer Conquerors section at the end of this newsletter.

The garden is brimming with leafy greens and root vegetables that are tasty and easy to prepare such as beets. Click here for information on how to roast beets.
Beets contain a high percentage of anti-inflammatory and antioxidant compounds which help reduce the risk of specific types of cancers, as well as promote eye and cardiovascular health. The tender green tops can be prepared like other leafy greens and are nutritional powerhouses loaded with minerals, vitamins and fiber. Click here to learn more about the health benefits of beets!
Stop on by the garden on Saturdays after Coffee Cafe and we'll send you home with some sprigs of fresh herbs to liven up your home cooked meals. Most weeks we are also at the garden on Tuesdays from 4:15 to 5:15 PM. If you're interested in helping out with the garden or have any gardening questions, contact Dawn at 520-975-4839 or timdawnmesser@gmail.com.
TCC Get Support

Coffee Café, the TCC Resource Room and more!
Saturday Coffee Café
Even if you don't come for exercise class, please join us at the TCC Coffee Café to share a snack, socialize and hear about all our upcoming activities! The Coffee Café happens after every Saturday morning right after exercise class at the Brandi Fenton Park Visitor's Center.
Please consider signing up to bring Coffee Café snacks one Saturday this year. You can always partner with another member to make it easier, and you can be sure we will appreciate whatever snacks you bring! Speak to Jenny Waters for more information.
TCC Resource Room
After Coffee Café announcements, we invite you to settle into the comfy furniture in the resource room while you leaf through information about community resources, or consider a book to borrow from our lending library.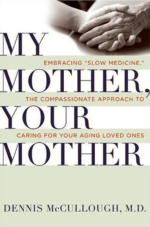 When Less is More.
Book Review by Sarah Schulman
Our highlighted book for February is My Mother, Your Mother by Dennis McCullough, M.D. This is a wonderful, compassionate guide by a family doctor and geriatrician to anticipating, preparing for, and supporting your aging loved ones.
Dr. McCullough shares his experience both with his patients and with his own mother that led him to embrace "slow medicine" as the best approach for helping "late-life elders." "Slow medicine," in Dr. McCullough's words, comes from " the ancient Tibetan wisdom of 'making haste slowly'… with patience and a sense of shared humanity, forgiving one another for what cannot be changed, bending flexibly at times of need, and holding firmly to shared values and loyalties at other times."
For the younger caregiver, used to multitasking and efficiently getting things done, this may be challenging. Thus the book offers practical (and calming) advice about listening and understanding your elder loved one's unique needs, recognizing newfound strengths that may come with age, working with medical and community resources, and ---best of all--- being part of helping them to live as well as possible in late life.
CureToday Partnership
Tucson Cancer Conquerors is proud to be an Advocate Partner with CURE Magazine! Please be sure to check it out all the information at www.CureToday.com.
Caring Baskets
TCC provides personalized items to members dealing with major life changes or challenges to offer inspiration, nurturing, and support. If you know a member who could use a little extra TLC, please click here to send an email to let us know.
Help Support Tucson Cancer Conquerors!
There are several easy ways to pay for your Membership or Get Fit classes...
• If you are a registered user in the TCC Members Area, simply log in and click on the Pay for Membership tab make a payment through Paypal. If you're not a registered user, just click here to become one. It's a quick and easy process!
• You can also pay for a membership by going to the Support TCC page and clicking on the Paypal Donate Now button. Please be sure use the note section to let us know you're paying for an annual membership.
• Of course you can also pay with cash or check which can be given to Arlene Kutoroff or Deb Davis, (checks payable to Tucson Cancer Conquerors).
Register with AmazonSmile and select Tucson Cancer Conquerors as your charity of choice! - Then when you shop on AmazonSmile, TCC will receive a donation of 0.5% of the value of your purchase! Click here to go to AmazonSmile.
Make a TCC Gift Donation! - Support our programs with your tax deductible donation or honor a special occasion by donating to Tucson Cancer Conquerors in the name of a friend or loved one! Click here to visit the Donation page on our website for more information.

Thank you to all who supported TCC this month by purchasing an annual Membership!