Hello Conquerors!
Well it's toasty out there but that doesn't mean nothing's happening at TCC! We are always finding creative ways to have fun together while keeping cool.
Our beat the heat field trip for July was a wonderful outing to the beautiful Lodge at Ventana Canyon for water aerobics with fitness instructor Margery Rubin. This is the third year Margery has held this class for us and it is always a great workout with fun music and lots of laughs. Thank you Margery for your time and your wonderful energy!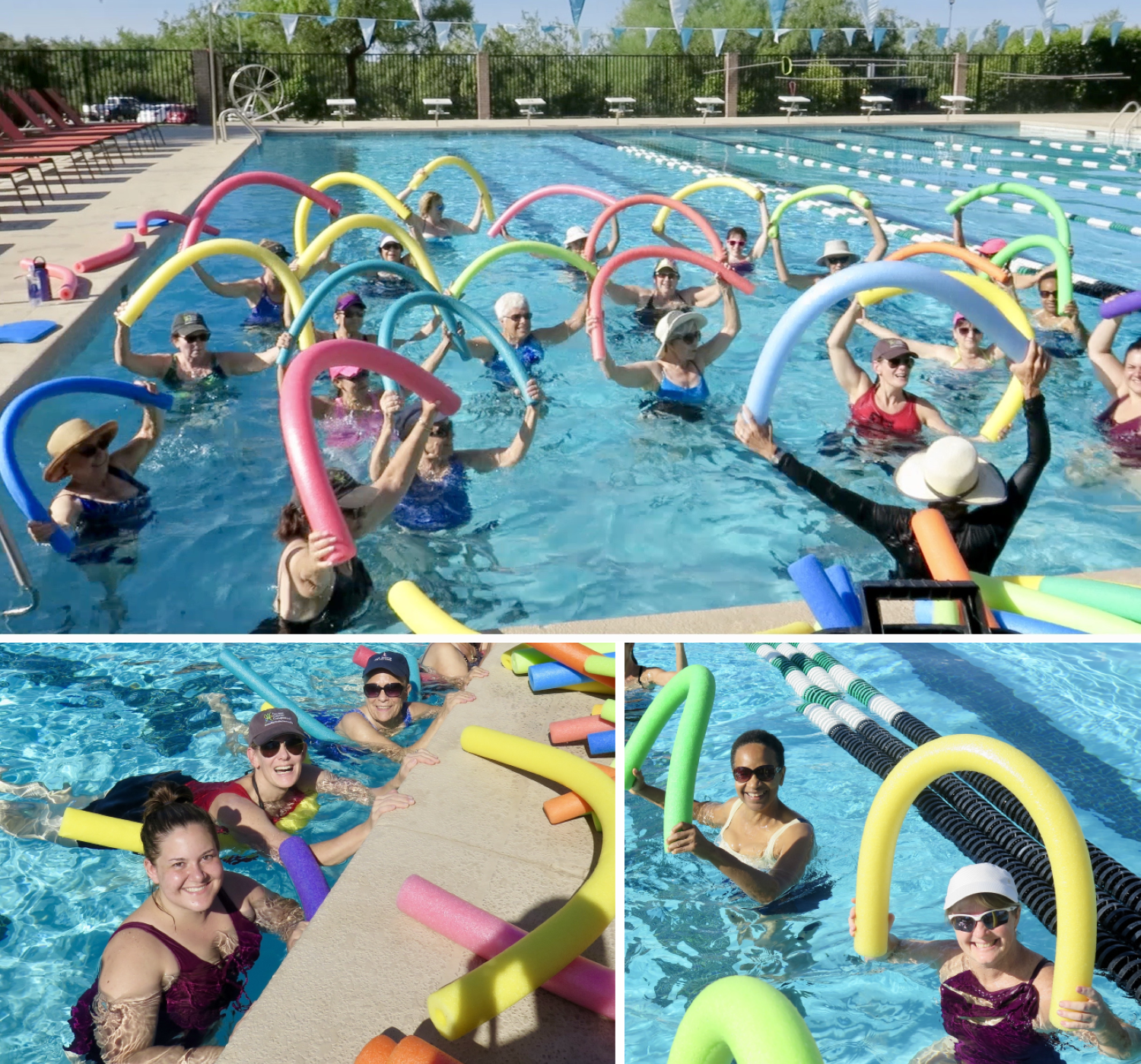 Every Saturday morning after our workout we get together for our Coffee Café, even if we are away from the park on a field trip. For those who don't feel up to the workout, they can always join us afterwards to network and enjoy breakfast together.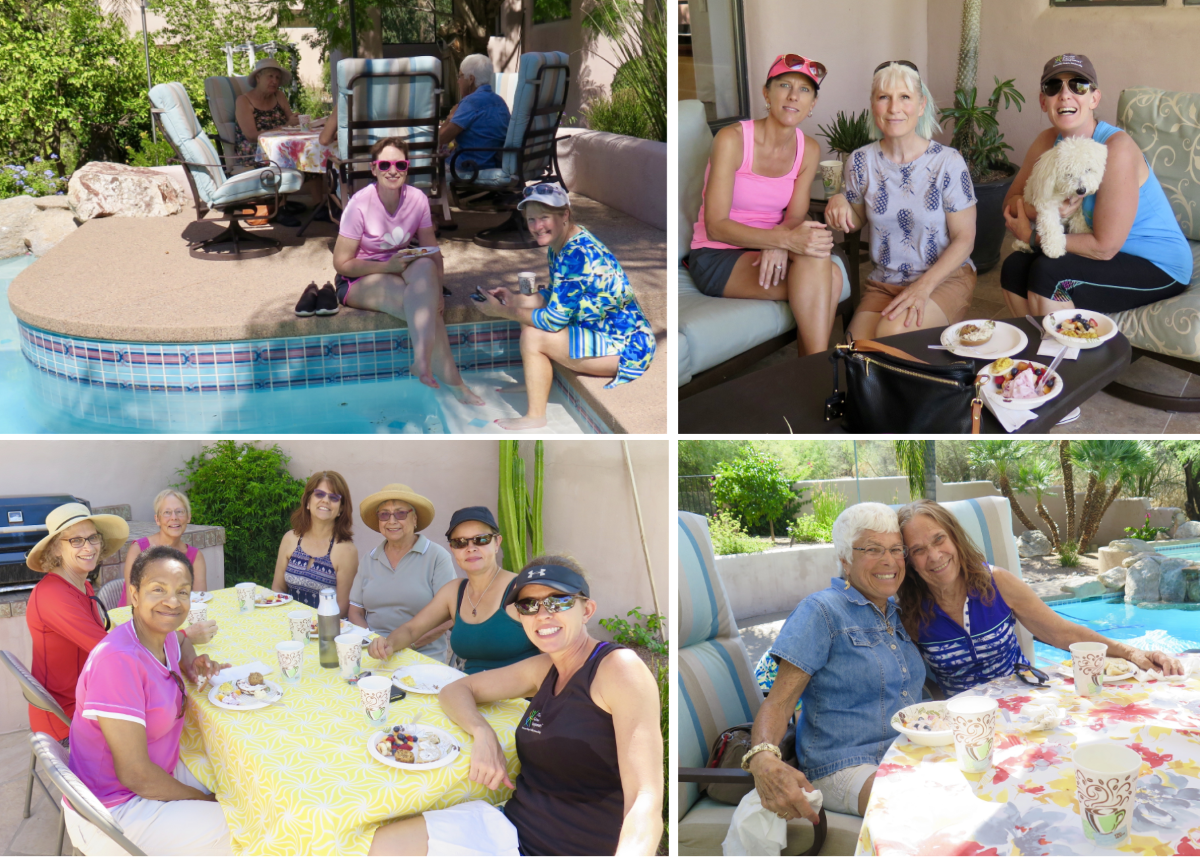 After our water aerobics class, we were so fortunate to have board member Dr. Lana Holstein share her home with us for a TCC brunch. Her yard was a beautiful place to hang out with the great company of friends, plus breakfast was delicious! Thank you Lana!
Our Tuesday birthday dinner was a festive celebration of July Birthdays. Because America's birthday is also in July, we celebrated with a 4th of July BBQ. TCC buddy and health coach Janet Neustedter helped the celebration committee to create healthy side dishes to go with Chef Ken Harvey's BBQ chicken. Chef Ken also shared with us how to properly cut a large watermelon…in about 30 seconds. Thanks Chef Ken and Loews Ventana Canyon Resort for our delicious BBQ and thank you to everyone who worked on our Picnic in the AC!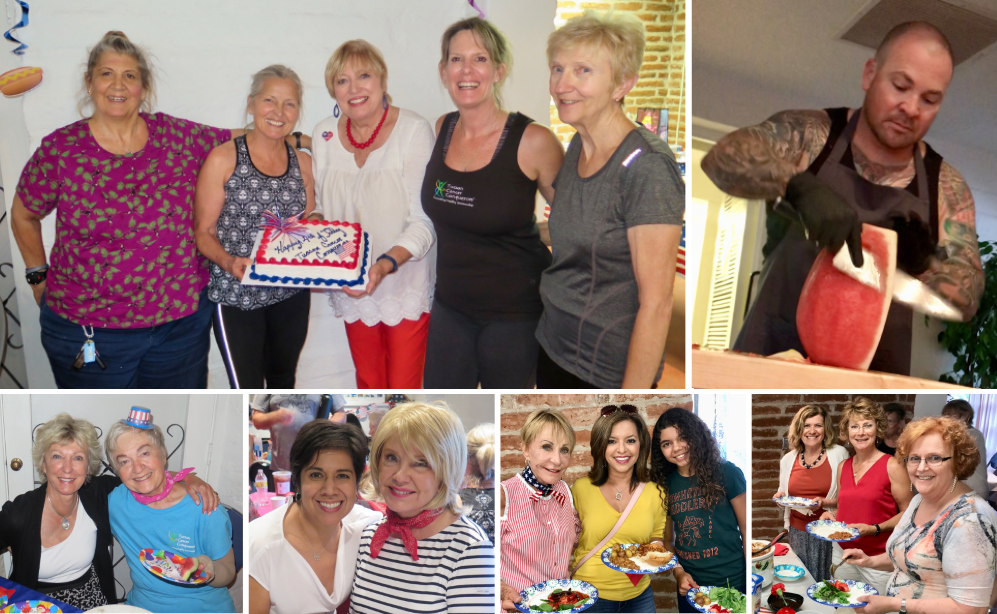 The board at TCC is an all-volunteer working board made up of talented and caring individuals who are passionate about the mission of TCC: To empower cancer survivors and the communities that support them to achieve optimal wellness. We would like to extend a warm welcome to new board members Cathy Pensak and Kristin Linne!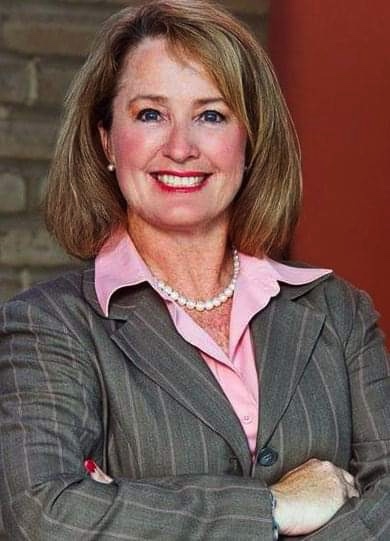 Cathy Pensak is longtime buddy to TCC. Her family has very personally been touched by cancer, making her a fierce advocate in her support of the cancer community. She holds a master's degree in Health Administration and Policy, with over 28 years in the health care field focused on the human condition and removing physical, fiscal and operational barriers to quality healthcare services. Cathy will be involved in developing and implementing program evaluation tools to help us insure that we are providing our members with things that are most helpful to them. She will also be involved with sponsorship appreciation. Thank you Cathy for joining us!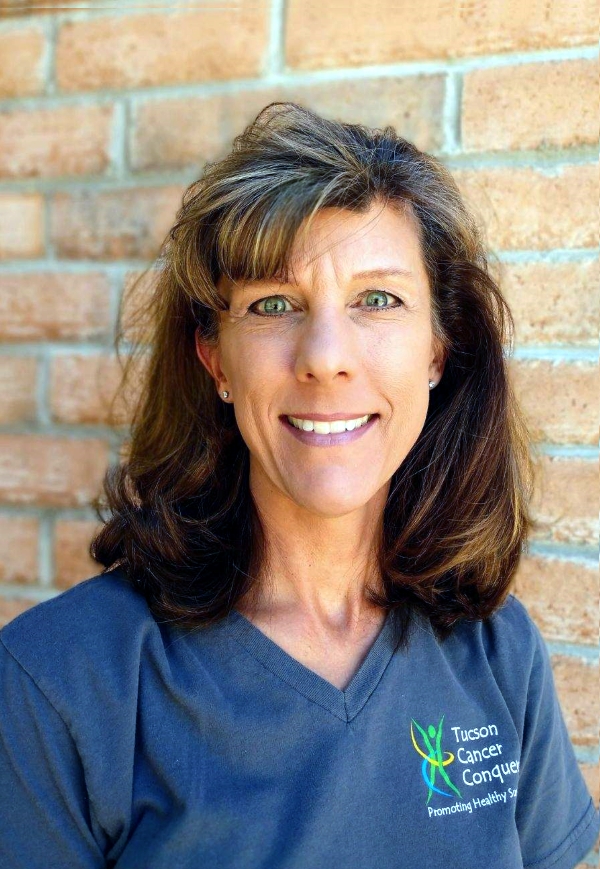 Kristin Linne is a 3 year cancer conqueror! She believes that being active really helped her through treatment, mentally and physically. A lifelong educator, Kristin holds a master's degree in Curriculum and Instruction. Passionate about exercise and nutrition, she recently became a Certified Personal Trainer and actively participates in teaching classes for the TCC Get Fit and Get Started Programs. Kristen will be assisting in the planning and implementation of our Get Active curriculum for all of our TCC Fitness classes. We will also be utilizing her extensive non-profit fundraising experience for our annual Holiday High Tea. Welcome Kristin!
Lots happening this summer with social activities and Beat the Heat field trips. Be sure to keep tabs on our Facebook page and check our website calendar for details so you can join us!
The Tucson Cancer Conquerors Board of Directors
Fitness Update
Get Fit Class:

5:30 PM Tuesday |

7:00 AM Saturday

Get Started Class: 7:00 AM, the first and third Saturday of each month
Loop Walkers: 7:00 AM Saturday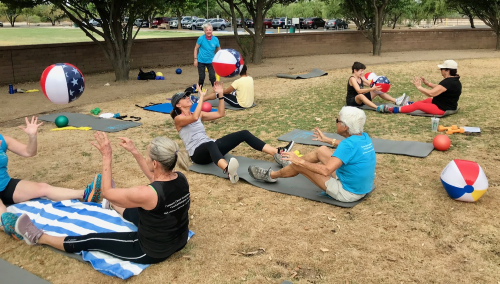 Just because we don't have a beach, doesn't mean we can't play like we do. Seated Beach Ball Volley gives you a great stretch, range of motion, and core workout with the added bonus of lots of laughs to work those abs! There are so many creative ways to have fun while getting fit.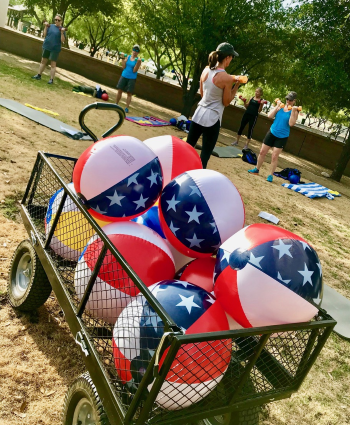 Don't forget - it's time to pay for your 3rd Quarter Get Fit classes! You can pay online in the Members Area or at any TCC event. Remember to pick up your TCC cooling towel!
Garden Update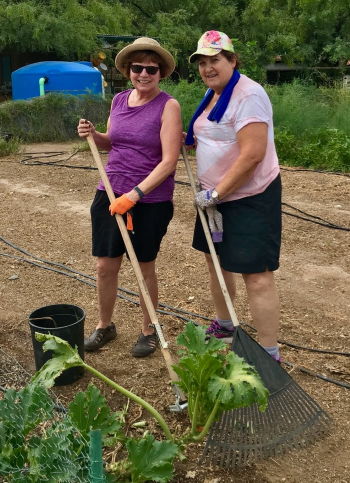 Its been a rough month with the heat. Thankfully our garden committee is on it, supplementing the watering system to give the ground a good soak. They have also put up shade netting to give the tomatoes a break from the sun and protect them from the birds.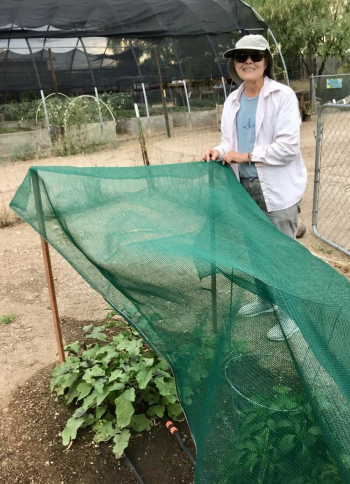 Fortunately, our peppers don't seem to mind the heat, providing our TCC members with a delicious and nutritious addition to so many of our southwestern dishes.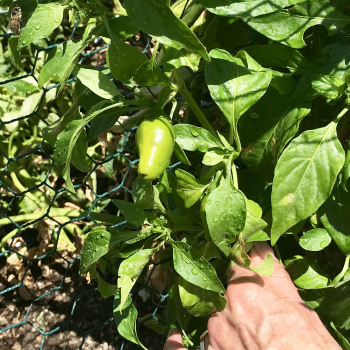 Did you know that besides being loaded with vitamins, the capsaicin found in peppers has strong anti-cancer properties? Click here for more information about the health benefits of Jalapeno Peppers.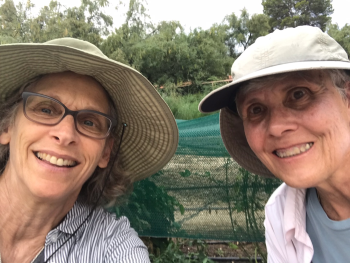 Special thanks to Diane Colman-Fields and Mary Anderson for their leadership on the garden committee, giving our garden some extra TLC and taking the lead on organizing our garden volunteers.
This Month's Events
Click on any event below to learn more on the TCC Calendar, and please RSVP to EVITES so we know you are coming.
August 3, Saturday, 8:15 AM: High Tea Committee Meeting
- Please join us for our first High Tea Committee meeting right after

Coffee Café

announcements.
Our Birthday Dinners have been packed so we are trying something new to give us bit more room. Dinner will be Pizza and Salad with dessert by our very own Chef Ken Harvey!
If you normally attend Tuesday evening Get Fit Class, we will not be meeting at the park. Please arrive at 5:15 PM for Get Fit class at Body Works Pilates Studio in Saint Phillips plaza.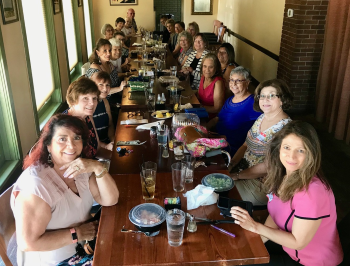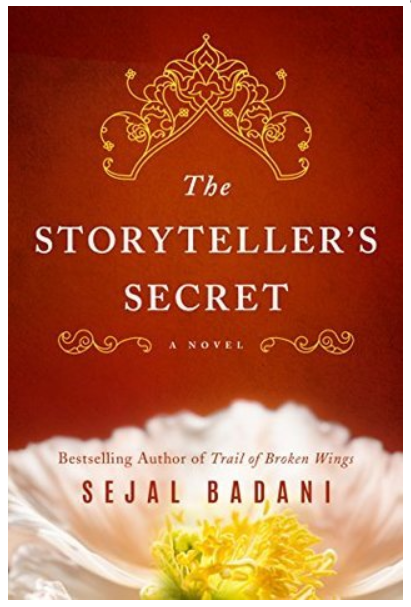 Next Month and Beyond
Be sure to save-the-date for these great upcoming events!
September 3, Tuesday, 5:00
PM,
Roadhouse Cinema: Movie Night
- Come enjoy social hour food from 5:00 to 6:15 PM, followed by our own private screening of the movie Poms, in your leather recliner, with popcorn and birthday cupcakes! Family and friends are welcome! There's not a bad seat in the house, but sign up and pay early to reserve your seat! Reservations are available at TCC events; $10 for members, $20 for non-members.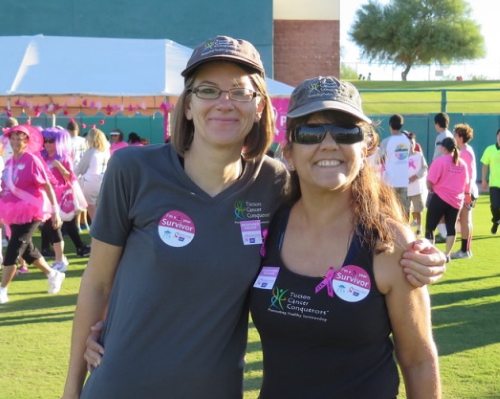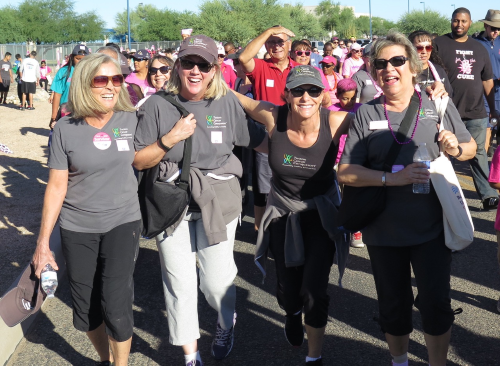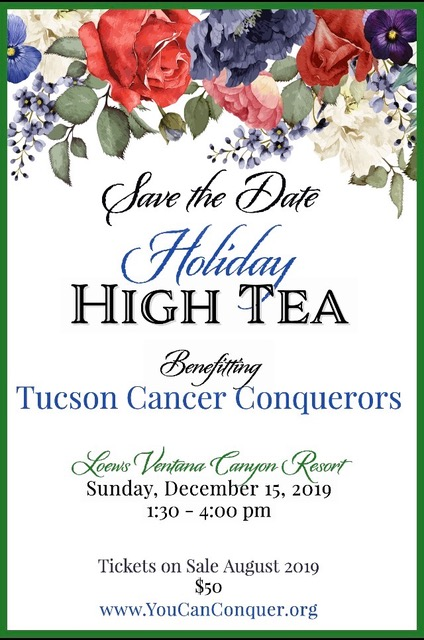 Thank you to our donors for their generous support!
Network for Good
Phyllis and Fred Geres
Pat and Norene Bunt in honor of Laura Pippin
The Albertsons Companies Foundation