Hello Conquerors!
We love traditions and celebrations at TCC! Every September, we take over the Roadhouse Cinemas to gather together to enjoy dinner and a movie in celebration of our September birthdays. Because we normally have Get Fit class on Tuesday evening, we always kick off the movie with a warm-up by the fitness team. This year, the team debuted as Captain Marvel Superheroes! The research is clear that people who have a strong social network tolerate treatment better and have less chance of cancer recurrence. Nothing like getting social in your own movie theater with 50 of your closest friends!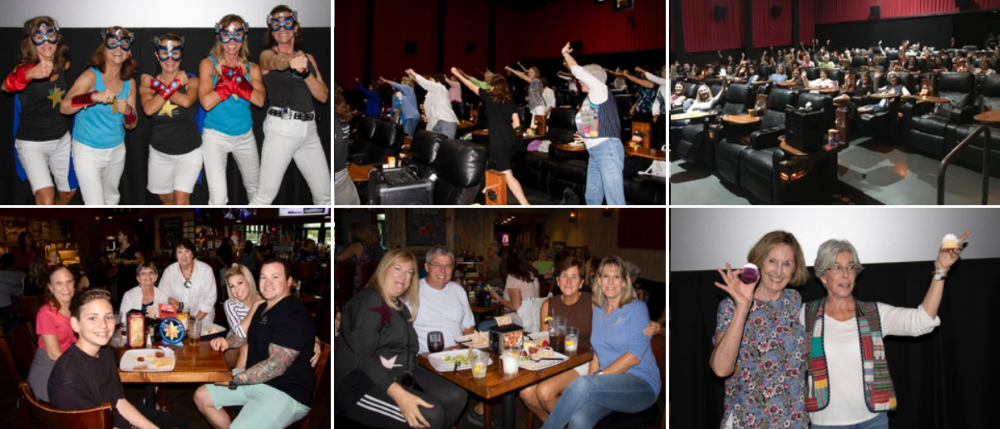 September is also traditionally our annual Health and Wellness Retreat. This year's retreat was held at the beautiful Lodge at Ventana Canyon Resort. Activities were focused on the TCC healthy survivorship programs: exercise, nutrition, education and peer support. Fitness activities included an adventurous hike on the Ventana Canyon Trail, Mindful Meandering walks through our beautiful Sonoran Desert, and a water aerobics class to cool things off. There were lots of opportunities to get to know one another through our team building activities, fun social hours, and delicious meals. A big thank you to Advisory Board member, Chef Ken Harvey, and Loews Ventana Canyon Resort for providing us with a nutritious al fresco dining experience!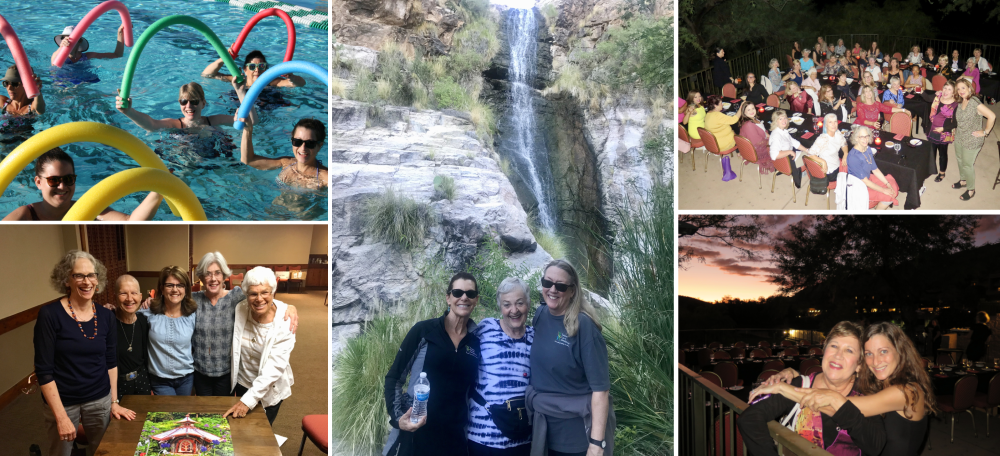 Guest speakers rounded out the weekend, sharing the tools for stress management and healthy living. Author and cancer survivor Judy Pearson led a workshop on moving forward after a cancer diagnosis from "Why Me" to "What's Next", empowering us to create the next chapter in our lives: our 2nd Act.
Dr. Lee Ryan, head of the Department of Psychology at the University of Arizona, discussed her research on the factors that affect memory and healthy aging in her presentation on Healthy Minds, Healthy Brains, Healthy Lives.
As the perfect end to a rejuvenating and inspirational weekend, our closing ceremony was performed by Tony Red House, a native American healer, musician, and motivational speaker. A big heartfelt thank you to all of our speakers, organizers and participants for this amazing experience!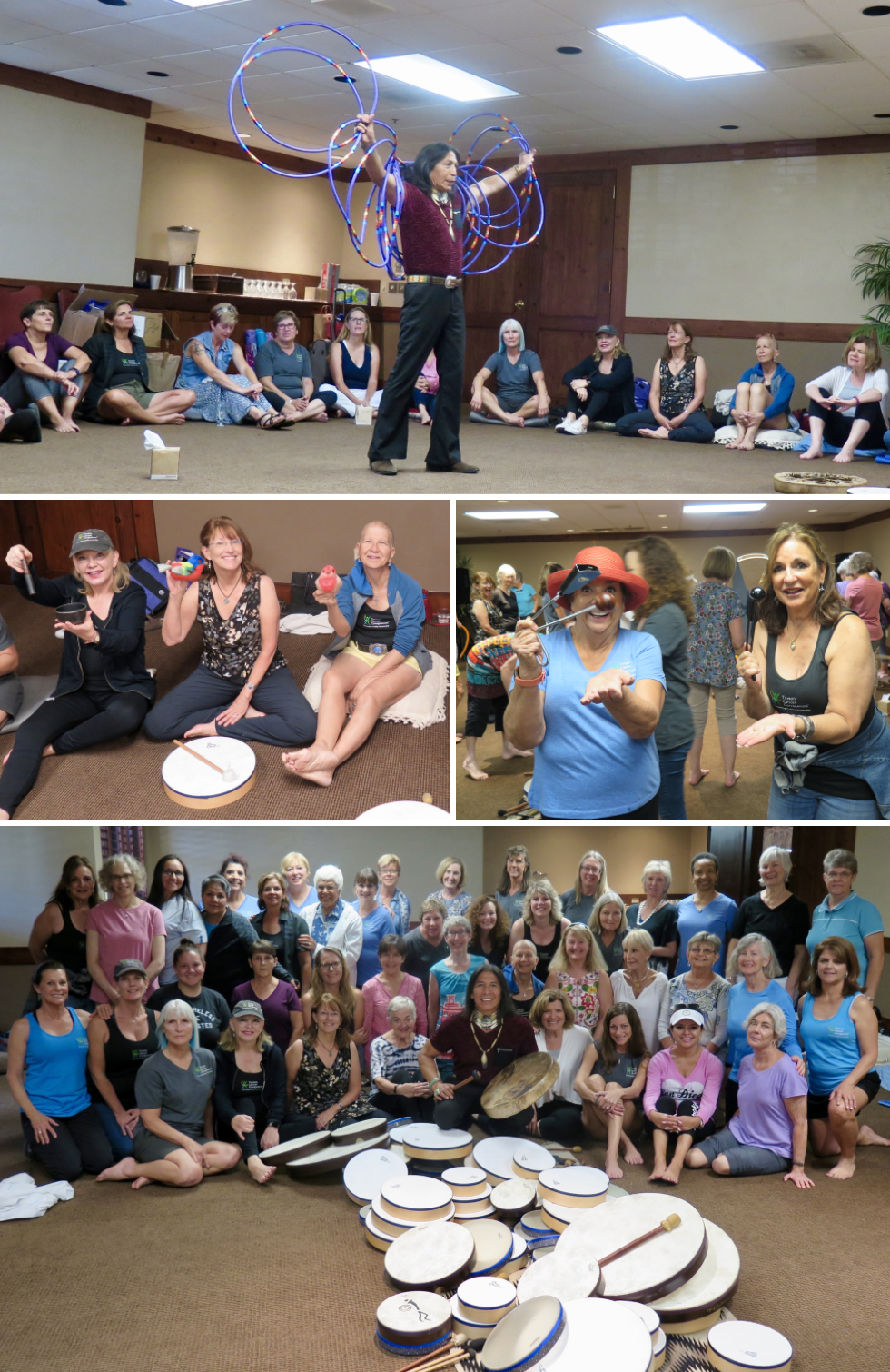 Meet our board members for the month: TCC President Dr. Liz Almli, and Executive Director Mary Specio-Boyer.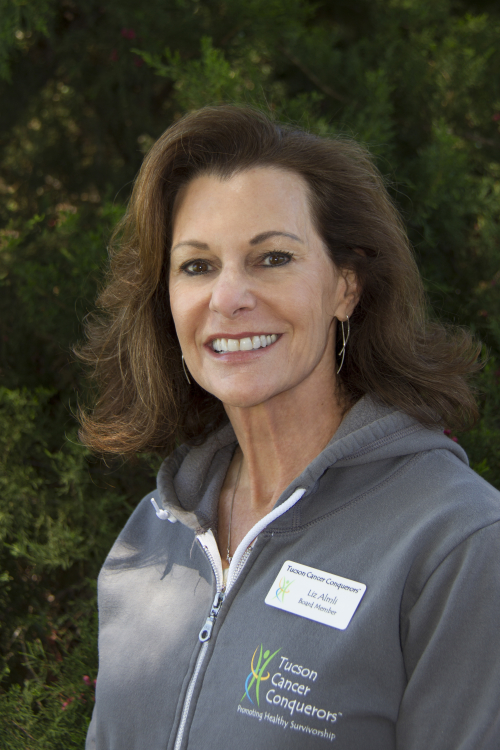 Liz Almli was born and raised in Tucson Arizona. She obtained her medical degree from the University of Arizona, followed by an anesthesia residency and a career in private practice. Though she has spent the last 30 years taking care of cancer patients, she never imagined that she herself would one day be dealing with the challenges of a cancer diagnosis. After a year of treatment for an aggressive form of breast cancer, she realized how important it is for patients to surround themselves with positive people who can offer support throughout the cancer experience, helping them regain control and be proactive about taking charge of their health.


Convinced that a new targeted drug therapy saved her life, Liz is passionate about raising research funds with the American Cancer Society to find a cancer cure. She also believes there is healing in helping and serves on the Executive board as the President of the Tucson Cancer Conquerors. She is a Certified Fitness Trainer with the American College of Sports Medicine with specialty training as a cancer exercise trainer. She is a Cancer Conquerors exercise class instructor and oversees the "Get Active" programming for the TCC organization. Liz considers TCC to be her family and her home away from home!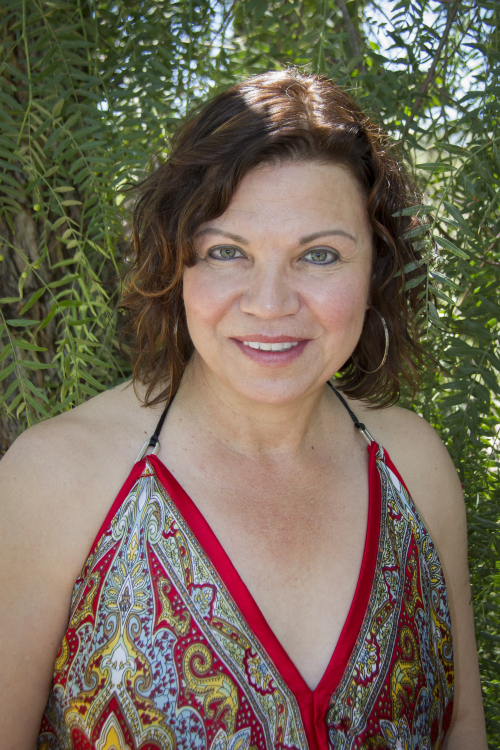 Mary Specio-Boyer was born in New York, and raised in Tucson, Arizona. She attended Arizona State University earning a Masters Degree in Social Work (LMSW), with specialty training as an independent addictions counselor (LISAC) and acupuncture detoxification specialist (ADS). She currently serves as Director of Business Development and Integrated Health Services at a local non-profit agency. Mary believes one should never stop seeking new experiences. She and her partner Kayla, enjoy the arts and travel adventure. She has lived and traveled many places, but believes there is magic in the peacefulness of the Sonoran Desert.


Diagnosed with breast cancer in 2009, Mary decided that she would use the experience to help others making the journey and volunteered as chair of the grants committee for the Susan G Komen Foundation of Southern Arizona. Since 2011, she has been involved with Tucson Cancer Conquerors serving as board President in 2013, and currently as the Executive Director. Her time working on behalf of the group has been spent offering experience in non-profit governance to establish an infrastructure that supports the interests of the members, and creates a strong sense of community for those in need of support.
October is a busy month for TCC and we don't want you to miss anything! Be sure to keep tabs on our Facebook page and check our website calendar for details so you can join us! Also please be sure to like our Facebook page!
The Tucson Cancer Conquerors Board of Directors
Fitness Update
Get Fit Class:
5:30 PM Tuesday |

8:00 AM Saturday

Get Started Class: 8:00 AM, the first and third Saturday of each month
Loop Walkers: 8:00 AM Saturday

Getting motivated to exercise can be a challenge for cancer survivors who often deal with concerns like fatigue, neuropathy, and lymphedema (swelling of the extremity due to damaged or removed lymph nodes). Lymphedema is of special concern because we do not want to make the swelling of the affected extremity worse.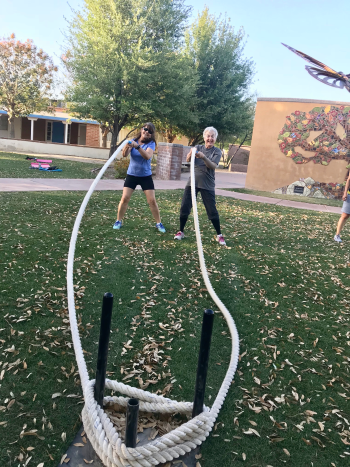 We know from research that exercise helps lymph move through the lymphatic system. Exercise makes the muscles contract and pushes lymph through the lymph vessels, decreasing congestion of fluids and improving swelling. Proper breathing techniques can also assist with moving fluid back to your central circulation.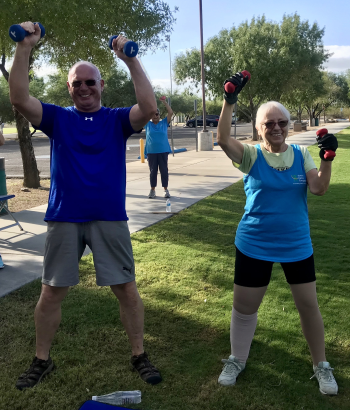 The good news is exercise can be done safely in nearly every circumstance with proper evaluation and modifications by a certified fitness professional. At TCC we have several certified trainers to supervise a fun and safe workout environment!


Garden Update
With the cooler temps its time to plant our fall garden! Our green beans are thriving but its time to pull up tomatoes and squash and get the soil ready for fall planting. We could use everyone's help.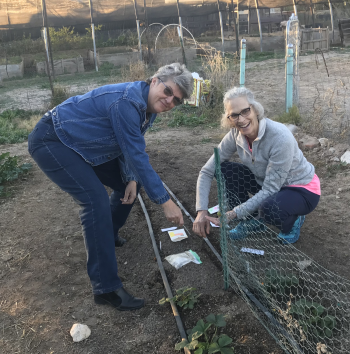 This month we'll be walking to the garden during Get Fit class to help weed and plant. Chef Ken will be doing a cooking demo and we will have breakfast Farm-to-Table style.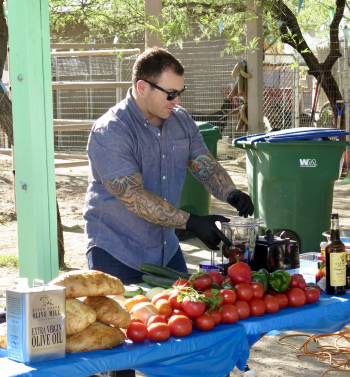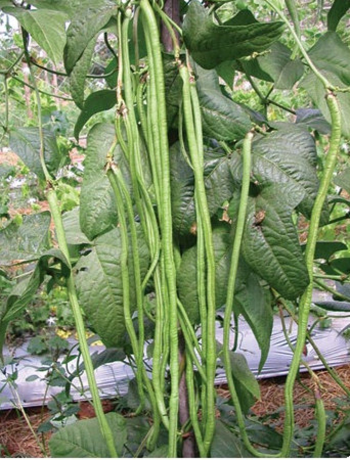 This Month's Events
Click on any event below to learn more on the TCC Calendar, and please RSVP to EVITES so we know you are coming.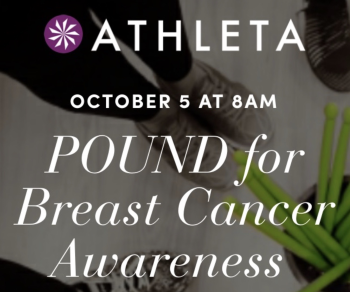 If you did not sign up for the Pound class, but would like to walk the mall with the TCC Loop Walkers, meet outside the Athleta store at 7:50.
Brighton has chosen TCC as the recipient of their Power of Pink Bracelet Campaign for 2019! We invite Everyone to join us for breakfast to follow at Brighton Collectibles (in the courtyard). We would love to meet you!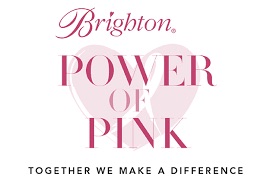 Due this event there will be no Get Fit or Coffee Café at the Brandi Fenton Park on this date.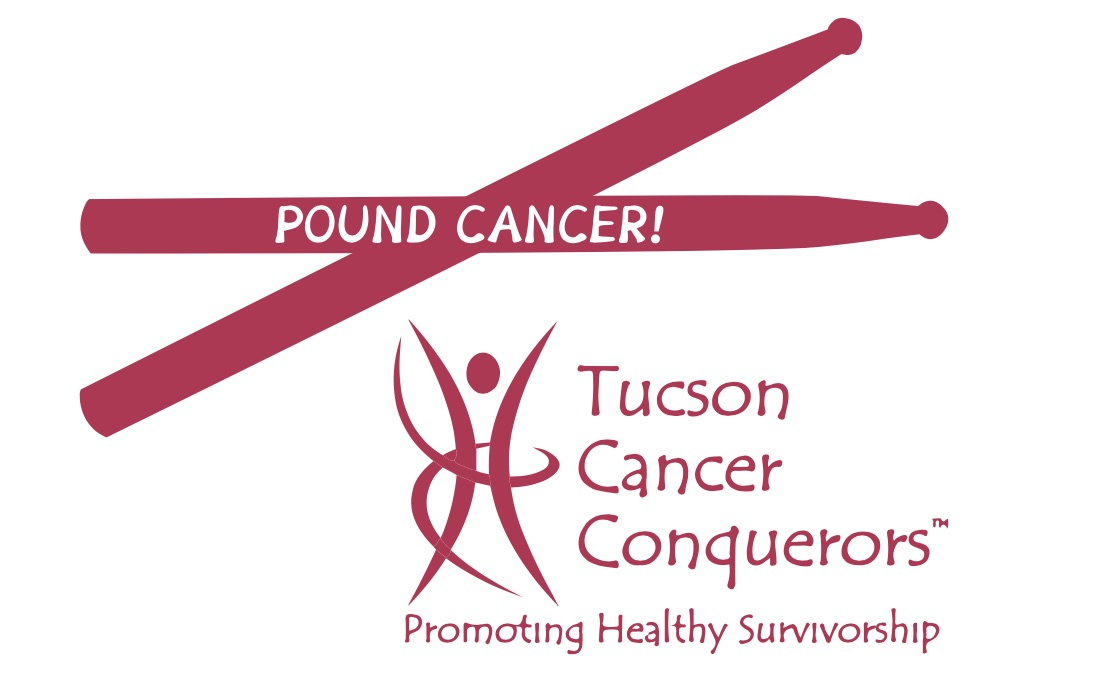 Next Month and Beyond
Be sure to save-the-date for these great upcoming events!

Thank you to our donors for their generous support!
Arizona Reproductive Institute
Beyond Bread
Sharon O'Neal-Tracey
El Cisne
Feast
Fini's Landing
Fiamme Pizza
Fleet Feet
Fox Theater
Marianne Delarco
Jim Williams
La Hacienda Family Mexican Restaurant
Loop Jean Company
Lulabelle Waxing Boutique
Nail Excellence/Sola Salon