Welcome to Tucson Cancer Conquerors
Tucson Cancer Conquerors is an all-volunteer, non-profit support group dedicated to empowering cancer survivors and the communities that support them to achieve optimal wellness. We offer a unique peer support environment along with creative wellness programs designed to educate, inspire, and encourage cancer survivors to be proactive about their health both during and after cancer diagnosis and treatment. Our group is run by cancer survivors and our supporters, so we understand first hand the physical and emotional challenges associated with a cancer diagnosis. With a focus on exercise, nutrition, education, and support, we are here to help you successfully navigate the journey that lies ahead. You are not alone. We have your back.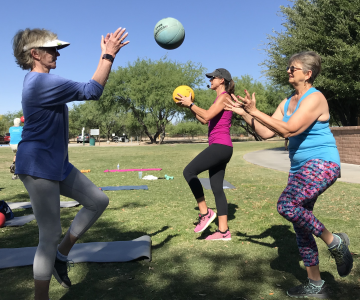 Fun with Medicine Balls!

Challenging your body in new ways is great for your overall fitness, plus a little variety keeps things fun! We love working out with our weighted medicine balls. Medicine Ball Training has been around since the ancient Greeks discovered health benefits from exercising with weighted balls. These little balls can be used in so many ways and are great at building strength, challenging your core, and improving balance and hand-eye coordination.
Click here to learn more from Family Circle about exercises you can do at home with a medicine ball!